Adani-PM Dosti Costing India and Goa
Dearly: INC Leader Praveen Chakravarty
GPCC Chief Amit Patkar Power tariff in Goa increased to benefit Adani; Questions silence of eight MLAs who jumped to BJP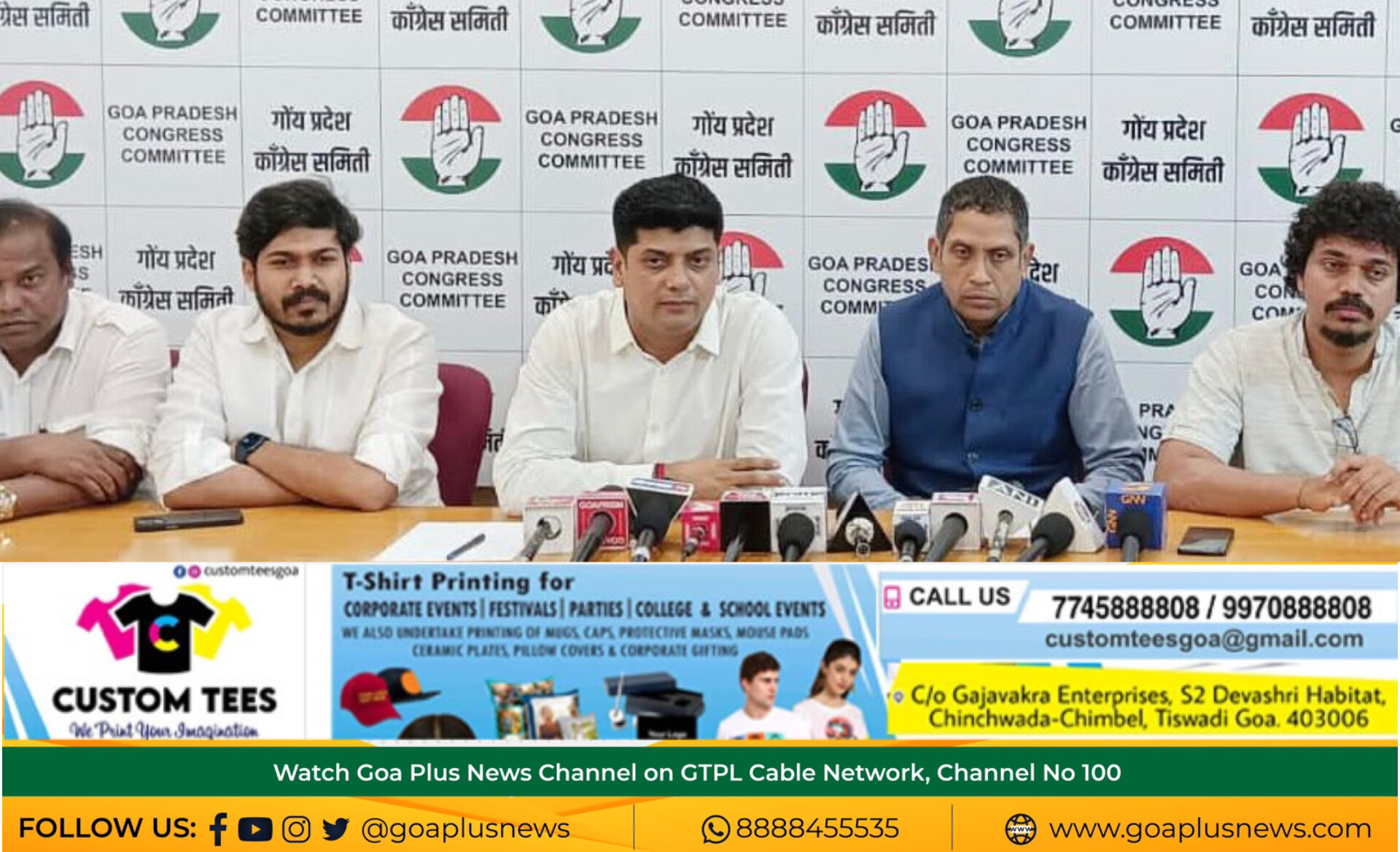 PANAJI: Praveen Chakravarty, Data Analytics of Indian National Congress |on Friday said that the Adani issue is not a stock market issue but concerns every Indian, including Goa, and the businesses and lives of every Goan would be affected.
Addressing a press conference at Congress Headquarters in Panaji, Chakravarty said that Prime Minister Narendra Modi's Dosti with Adani is costing India dearly.
"It is unfortunate the Congress party has to convene a press conference to talk about just one specific corporate or individual. But in the larger interest of the nation, we are forced to take this step today. In fact, not just us; the entire world is talking about one specific Indian corporate individual. That is Mr Gautam Adani," he said.
He charged that Prime Minister Modi's foreign policy is nothing but Adani's foreign expansion policy.
"PM goes to Japan, and Adani gets a freight contract. Modi goes to Bangladesh, Adani gets a power contract there, Modi goes to Israel, Adani gets a port there, Modi goes to Sweden, and Adani gets a defence contract. India's Ministry of External Affairs has become Adani Group's Department of International Business Development," he said.
Speaking further, he says the ED and CBI raided the owners of Mumbai airport soon after Adani got to the Mumbai airport.
"In fact, I landed in Goa's new Mopa airport today, and I was surprised to learn that was not given to Mr Adani yet. Maybe it will happen soon," he said sarcastically.
Chakravarty says the SEBI, India's stock market regulator, started an investigation 2 years ago into exactly this matter, but nothing came out of this investigation, and it is a matter of shame for us that a foreign research company has done what SEBI should have done.
"Now, after the Hindenburg report came, Adani's share price collapsed. The government used LIC to buy Adani's shares and support the share price. Whose money is LIC investing? It is LIC policyholders' money. There are 5 crore families in India and XX crore families in Goa that have taken an insurance policy. Why did they take an insurance policy? To protect their families against the unfortunate death of a loved one," he said.
He added, "This is why this is not just an issue for Adani's shares or stock market investors. This will affect every Goan and every Indian. When foreign media raises the alarm that foreign investors stay away from India, there will be no investment in Goa, and there will be no tourism in Goa. This means there will be no good jobs for Goans. This is not just an issue of share market investors. The Modi Adani dosti is the shame of India in the world today.
The Congress party is demanding a Joint Parliamentary Committee to investigate thimatter," he said.
GPCC President Amit Patkar also charged that there is a direct nexus between Gautam Adani and Narendra Modi.
"The Goa government wants to increase the power tariff. Who will be affected by the common man? They say the power price has been hiked as the coal prices have increased. You have to understand there is a clear nexus between Modi and Adani. They stopped Coal production in India and are importing it from Australia and Indonesia through Adani at higher prices to NTPC," he says.
Not just the power tariff hike but also in this bargain, they are also making Goa a coal hub by creating an artificial shortage of coal, he charged.
"Our leader Rahul Gandhi had said they would not allow Goa to become a coal hub. Our leaders are fighting daily to stop double tracking for coal transportation. There is no land acquisition, but there is dadagiri of Railways and police. The site has heritage houses," he said.
Patkar questioned the eight MLAs who defected to BJP recently.
He said that one of the MLAs is from Mormugao taluka, who spoke against coal all this while during elections. "Where is he today? he asked, adding, "These eight people who jumped to BJP must have gone only for money, and maybe the money was given by Adani only. Otherwise, why the MLA, who made noise about coal is, silent today. The eight MLAs do not speak even on Mhadei because they have become puppets like Goa CM," he said.