Rs 1000 crore scam in 'Smart City' project, people suffering due to loot of BJP Govt:  Congress
Congress leaders headed by Elvis Gomes gheraod the 'Smart City' office and raised 50 questions in regards to work going on at snail's pace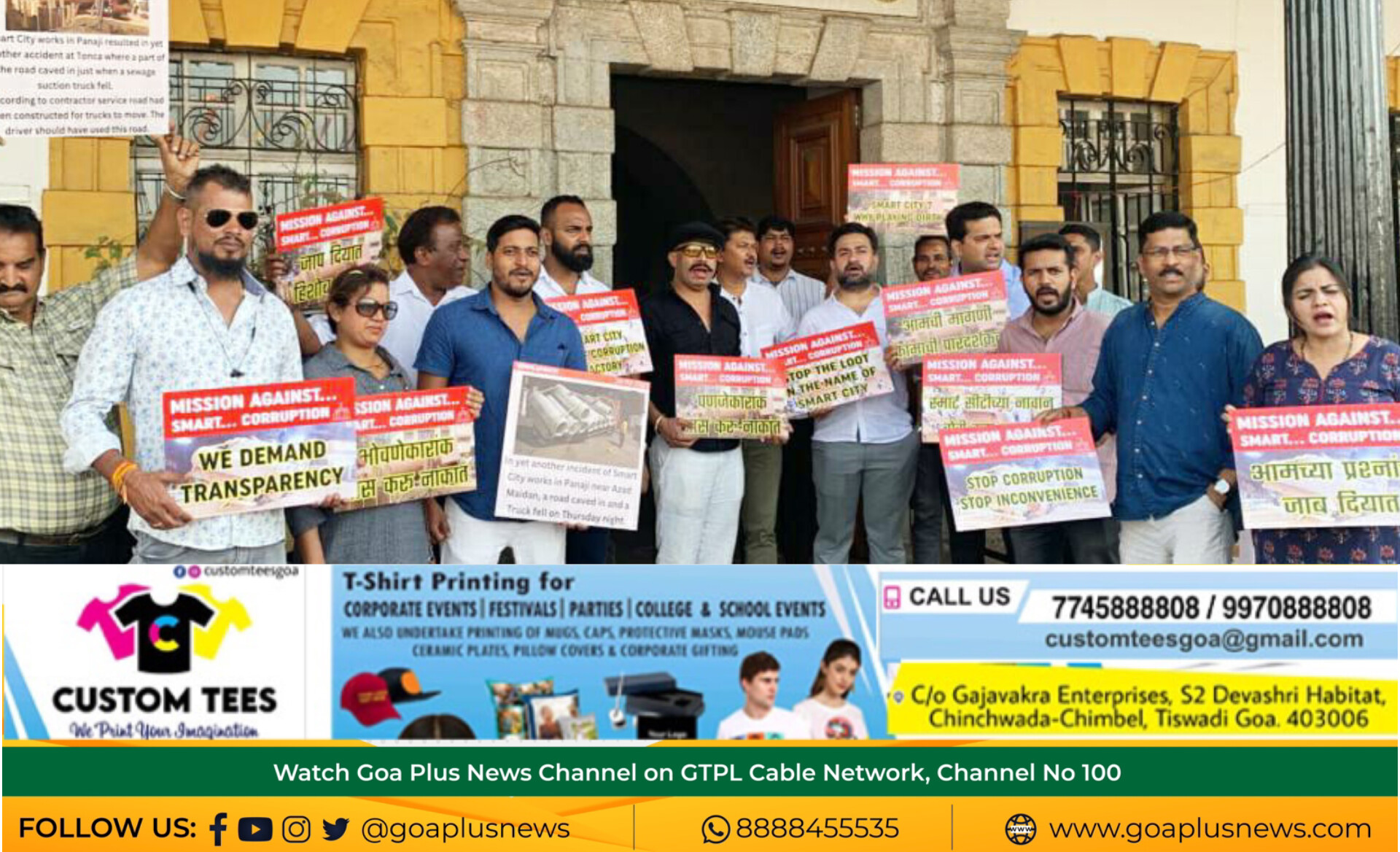 Panaji: Alleging that the 'Smart City' project in the capital city is a scam of Rs 1000 crore, which is looted by the BJP government, Congress on Friday warned the saffron party to face the music if citizens and tourists moving in the city meet with accidents.
Following the fourth accident in the city, wherein one truck laden with pipes plunged into road cave, Congress leaders headed by Elvis Gomes gheraod the 'Smart City' office and raised 50 questions in regards to work going on at snail's pace.
Congress leaders Amarnath Panjikar, Janardhan Bhandari, Adv. Varad Mardolkar,John Nazareth,Saish Aroskar,Vivek Dsilva, Muktamala Fondvekar, Chandan Mandrekar, Naushad Chaudhary, Mahesh Mhambre, Vyas Chodnekar and others were present on the occasion.
"No responsible officer is present in this office. We have learnt that they never visit the office. Hence people are suffering due to the slow process of work. This is nothing but a scam of Rs 1000 crore. BJP is smartly looting money out of the smart city project," Elvis Gomes said.

He said instead of giving free space to the public moving in the city, the work contractors are troubling people by not using any safety measures.

"We have raised 50 questions in this regard. We want answers to these questions. Seems the government is in Carnaval mood and hence have turned Nelson's eye on the issue, which is giving pain to the public," Gomes said.
He said that the government should involve every citizen while doing Smart City. "It was a guideline by the central government to involve everyone. It should be a citizen centric mission. But no information is given about this project. Even the website is defunct," he said.
"This is a major scam. We will take appropriate steps if the work is not done in the proper way," he warned.
Amarnath Panajikar said that instead of organising study tour for MLAs in Madhya Pradesh to study Smart City Project, they should first come and see the situation of Panaji city.

"Accidents are taking place while the work is going on. But the government is not bothered of it," Panjikar said.

"BJP government has become extra smart to loot the exchequer of the state. We want transparency in this work. We want to know the quality of work. There should be safety while working on this project. But nothing has been done," he said. 
Janardhan Bhandari said that people and tourists are suffering due to the ongoing work, which has been taking place for the last many years. "BJP is trying to loot money by doing sub-standard work," he said.
Adv. Varad Mardolkar said that it is dangerous to even walk in the Panaji city as roads are taking the place of caves. "We will take steps to expose the scam that took place in this smart city project," he said.
He said that Congress will file a criminal case against the concerned persons in this regard.