Youth Congress Slams the Govt. for its failure to curb the drug trade & Demands to revoke the rustication Orders of 5 interns till the Police Investigation is Complete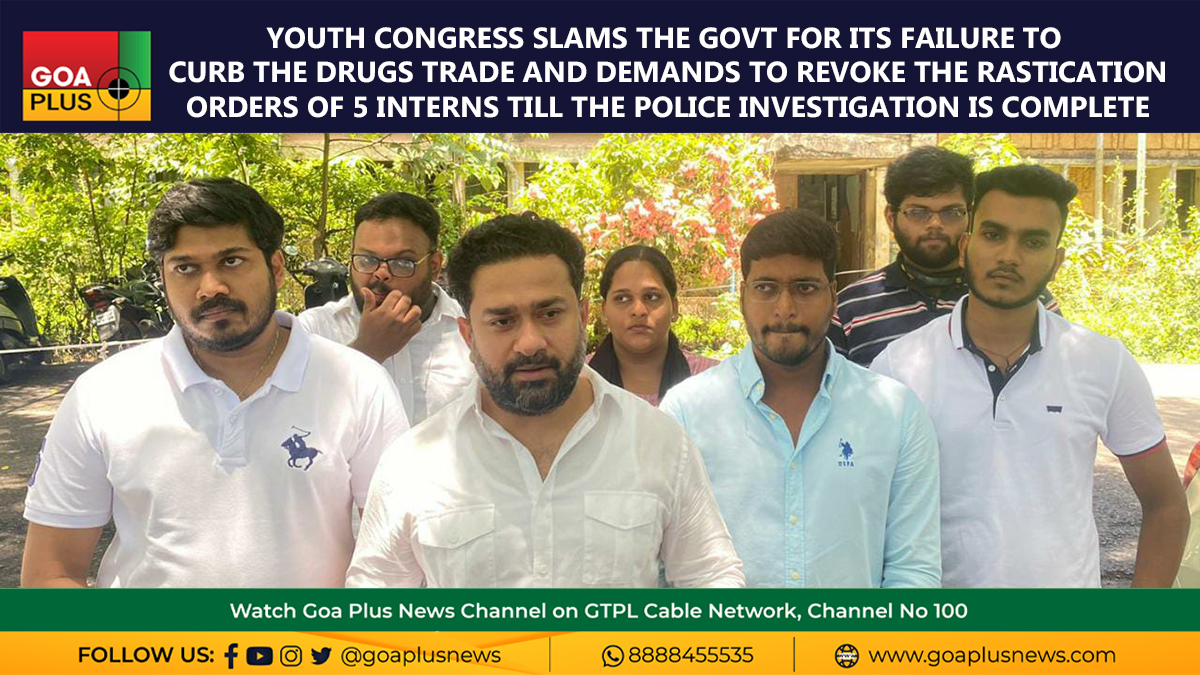 Revoke the Rustication orders of the 5 interns till the police investigation is complete, appealed Adv. Shri. Varad Mardolkar, President Goa Pradesh Youth Congress. Addressing the media on Sunday on the recent decision by Health Minister Vishwajit Rane to rusticate the interns in the drugs case, he was joined with Archit Naik, Naushad Chaudhari, and Vivek D'Silva, Kliban Fernandes, Terrance Picardo and others.
Naushad questioned how the Health Minister took a hasty decision on rusticating the 5 interns when the case is still under investigation. He said, "As per the FIR of Agacassim Police Station, the 7 grams of substance was found in the common room. It has been registered against an unknown person."
Shri. Mardolkar added that in the past intake of drugs was restricted to rave parties and coastal belt, but emphasized that drugs have entered the villages of Goa and are freely available in other colleges, yet the police and other departments have turned a blind eye. He blamed the Chief Minister, who holds the post of Home Ministry for allowing the free flow of drugs in Goa. He said, "The CM and police are responsible for this and it is with their blessings that drugs are freely available. The CM should take responsibility for this."
Shri. Mardolkar said that the Government should take action against the drug lords, peddlers. He recalled the 2018 case where 100 kgs of ketamine were seized at a factory owned by a BJP functionary Vasudev Parab. The raid was conducted by the Directorate of Revenue Intelligence (DRI) as part of its nationwide raids at Pissurlem.
Shri Mardolkar said that if the Government doesn't take action on this, Goan youth will be finished. "The CM should order the police to take strict action on completely finishing the drug trade instead of just doing an eye-wash by catching a few students," he mentioned.
Archit Naik called it as a 'complete failure of the administration for allowing drugs to enter the GMC, a place frequented by the public.' "It is just the tip of the ice-berg. Goa is the most preferred tourist destination in the country, but with the increase in drugs, crimes, prostitution, it will become un-preferred and non-safe destination." The availability of drugs will spell doom for Goa, being a tourist dependent state.