AAP's Venzy Viegas succeeds in transferring 'Sachin Vaze' of the Colva police station; this is the impact of electing an honest MLA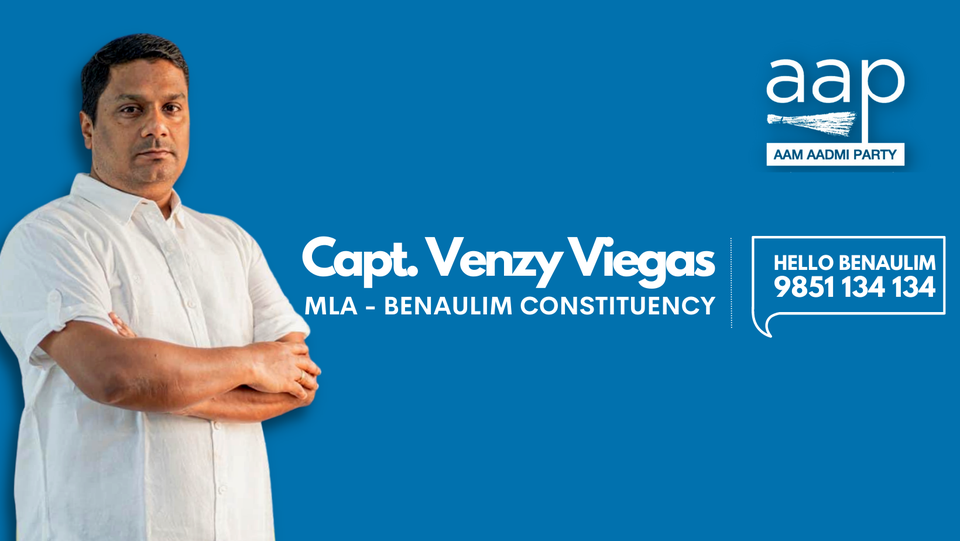 Aam Aadmi Party Benaulim MLA Capt Venzy Viegas, who believes in going beyond words, has succeeded in getting 'Sachin Vaze' of the Colva police station transferred.
Viegas has been working around the clock for the betterment of Benaulim constituency since being elected MLA.
From the long-pending Colva Creek issue, the western railway bypass issue, the hotmixing of the roads and programs like self-defense programs for girls to counseling sessions for tenth grade students, Viegas has done everything without much fanfare.
With the transfer of "Sachin Vaze" of the Colva police station, who was having a free run in the jurisdiction, it has been proven once again that if there is a will, there is a way. AAP believes in corruption free governance and the transfer of 'Sachin Vaze' of the Colva Police station is a step towards it.
Due to his dedication in making the Benaulim constituency corruption free and a better place to live, Viegas has found a place in the hearts of Benaulimkars. Through his "good work," Capt. Venzy Viegas is gaining prominence as an adept politician.
Viegas had previously pointed out that there is a constable at the Colva Police station who doesn't even wear a uniform and everyone, including higher-ups in the police department, is afraid of him, including vendors selling water and tender coconuts.
Viegas had also stated that this Sachin Vaze is believed to be rich, with numerous assets that none of the department officials are going to go and check and the entire Colva police department has fallen for the trap that this Sachin Vaze has positioned for them.
Viegas had mentioned previously that once Sachin Vaze is removed and transferred from this place, Colva will get a brand new image and progress.