Whether Precious Toor Dal is Damaged to Benifit Crony Club of Modi-Shah? PM & CM Must Explain: Amarnath Panjikar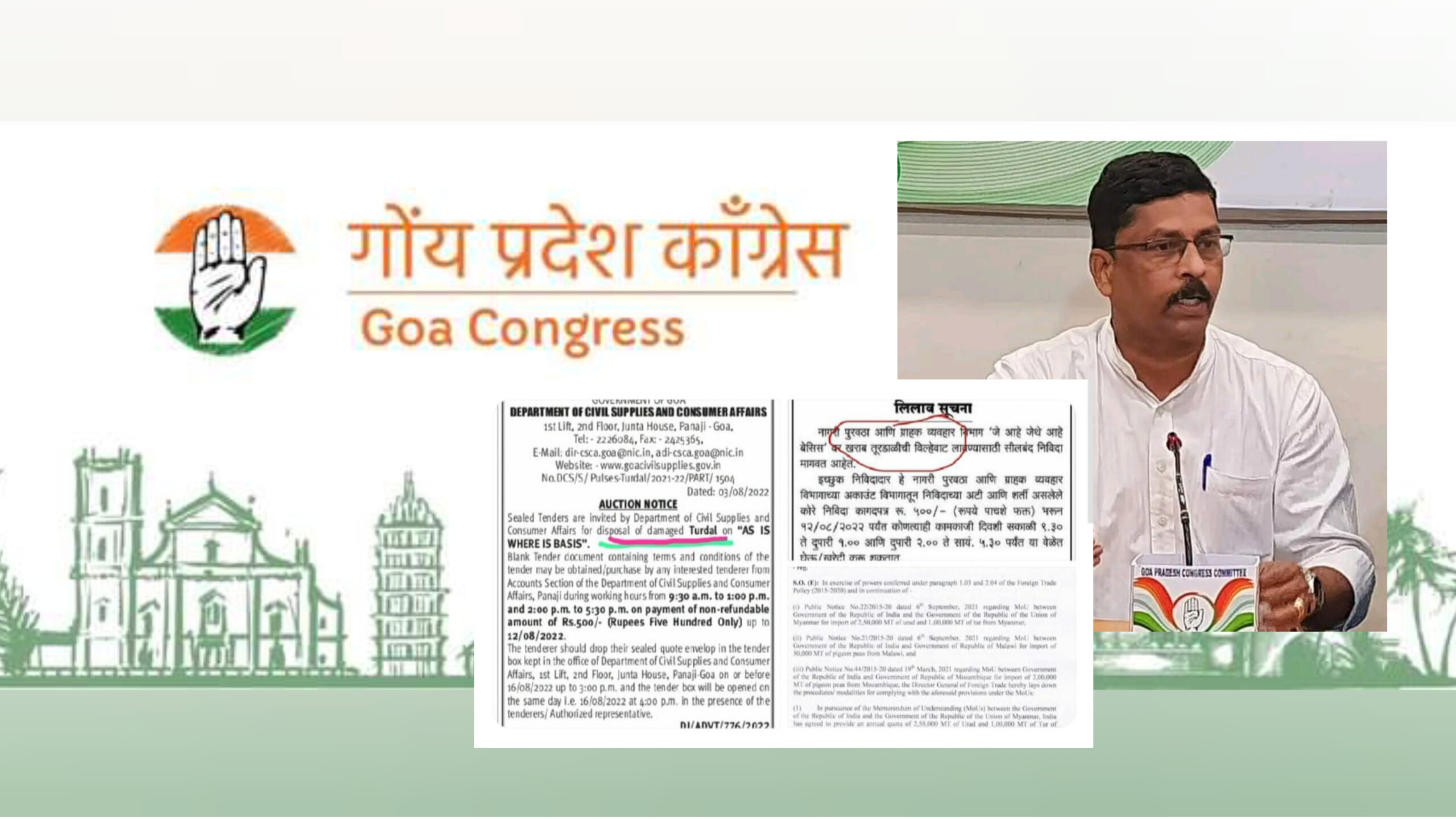 Panaji – When Directorate General of Foreign Trade (DGFT) approves Import of thousands of tonnes of Toor Dal per annum, through Private Trade over next 5 financial years 2021-22 to 2025-26, Our irresponsible BJP Government invites bids to Dispose damaged Toor Dal. Prime Minister Narendra Modi & Chief Minister Dr. Pramod Sawant must explain whether this is a deliberate Waste done to benefit Crony Club of Modi-Shah, demanded Congress Media Cell Chairman Amarnath Panjikar.
Referring to the Advertisement issued by Department of Civil Supplies & Consumer Affairs in local dailes today inviting bids for disposal of damaged Toor Dal, Amarnath Panjikar referred to a Public Notice no.17/2015-20 issued on 18th July 2022 by DGFT allowing import of Toor Dal for next five years.
It is shocking to see that the most irresponsible BJP Government headed by the defective Chief Minister Dr. Pramod Sawant has issued an advertisment in local newspapers today inviting bids for disposal of Damaged Toor Dal, pointed Amarnath Panjikar.
The faulty policies of the BJP Government had resulted in prices of Toor Dal touching almost Rs.200 per kg some months back. Even today the market price of Toor Dal is above Rs.100 per kgs. On the other hand we find that Government issues notice inviting bids to dispose Damaged Toor Dal. Who is responsible for it? questioned Amarnath Panjikar.
I suspect that the BJP Government is deliberately hoarding the pulses like Toor Dal and allow them to get damaged or spoiled to facilitate the Crony Club of Modi-Shah to earn fortunes from Imports of the pulses like Toor Dal etc. This Government is all out to empty the Coffers to fill the Treasury of Capitalists in the Country, charged Amarnath Panjikar.
I appeal to the people of Goa to wake up before it is too late and teach BJP a lesson by defeating their Candidates in coming Panchayat Elections. If we fail to control them now, they will sell Goa to Crony Club warned Amarnath Panjikar.