Time has come to save India which was United by Sardar Patel and protected by Indira Gandhi- Congress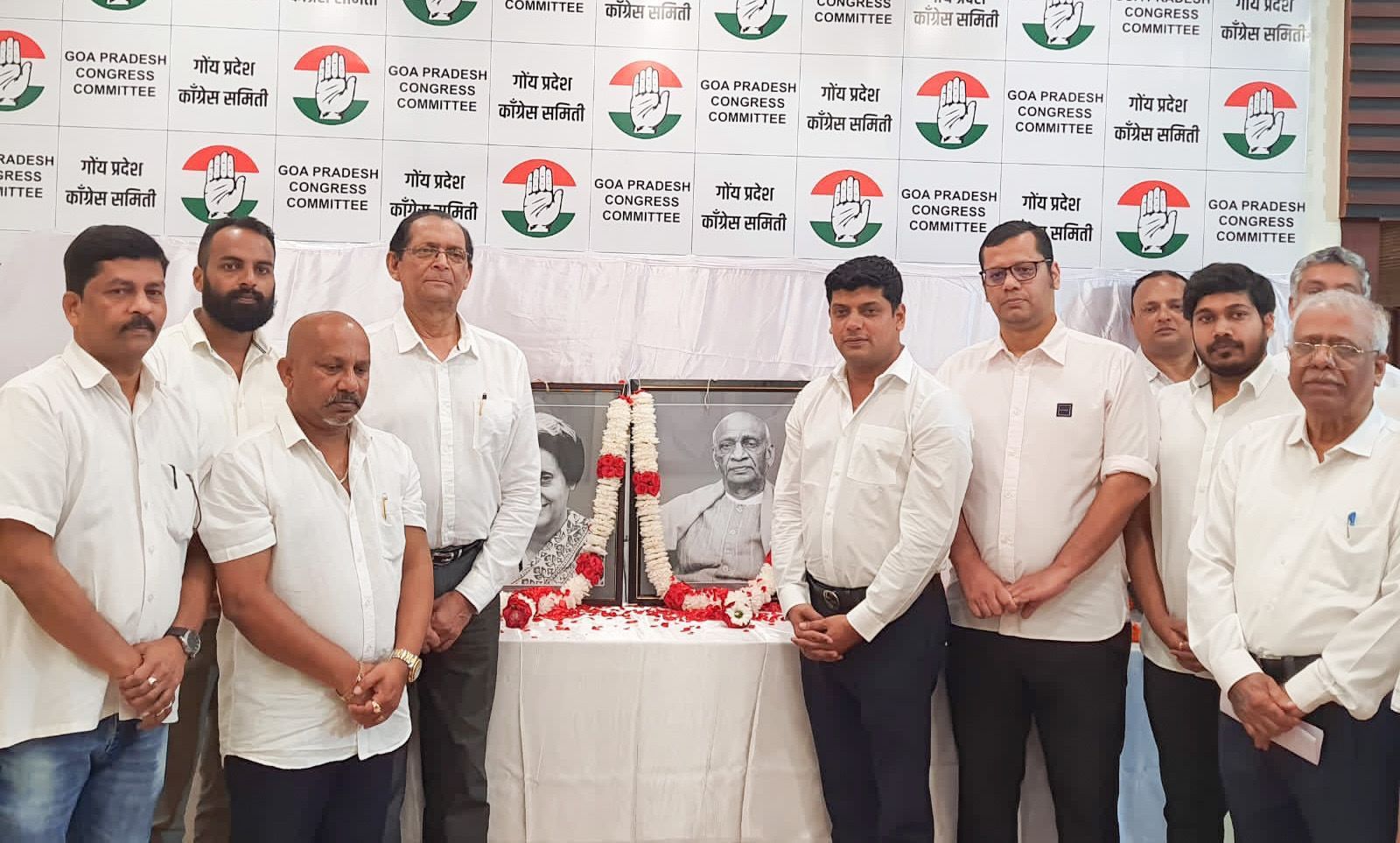 Panaji – Sardar Vallabhbhai Patel, the first Deputy Prime Minister of Independent India tackled the most intricate and baffling problem of the States' integration into the Union of India. With his tact,powers of persuasion and his statesmanship he managed in less than a year's time, to reduce the Princely States from 562 to 26 administrative units and bringing democracy to nearly 80 million people of India, comprising almost 27 per cent of the country's population stated Congress President Amit Patkar.
Iron Lady & former Prime Minister Indira Gandhi sacrificed her life for the Country. She conducted herself with remarkable patience and restraint. She won the 1971 India-Pakistan war decisively – splitting Pakistan into two, with the new country, Bangladesh, stated Leader of Opposition Yuri Alemao.
Sardar Patel & Indira Gandhi have immensely contributed in nation building. It is the duty of every citizen to follow their ideals which will help in safegurading democracy stated South Goa MP Francisco Sardinha.
Congress Leaders said that time has come to Save India which was United by Sardar Patel & Protected by Indira Gandhi.
Congress Party today commemorated the Birth Anniversary of Sardar Patel & Death Anniversary of Indira Gandhi at Congress House in Panjim. Congress President Amit Patkar & Leader of Opposition Yuri Alemao, MP Francisco Sardinha, Quepem MLA Altone D'Costa along with other Congress Functionaries paid floral tributes to the potrait of Sardar Patel & Indira Gandhi.
Congress Functionaries also observed silence as a mark of respect to all those who lost their lives in the Cable Bridge Collapse tragedy at Morbi in Gujarat and prayed for early recovery of those injured in the accident.
Senior Vice President M K Shaikh, former Deputy Speaker Shambhu Bhau Bandekar, Media Cell Chairman Amarnath Panjikar also paid tributes to the two leaders.
Congress Functionaries Arch. Tulio De Souza, Gurudas Natekar, Savio D'Souza, Saish Aroskar, Adv. Archit Naik, John Nazareth and others were present for the function.