Recruitment through SSC is implementation of Congress Manifesto, BJP did not give jobs this SOLD jobs – Yuri Alemao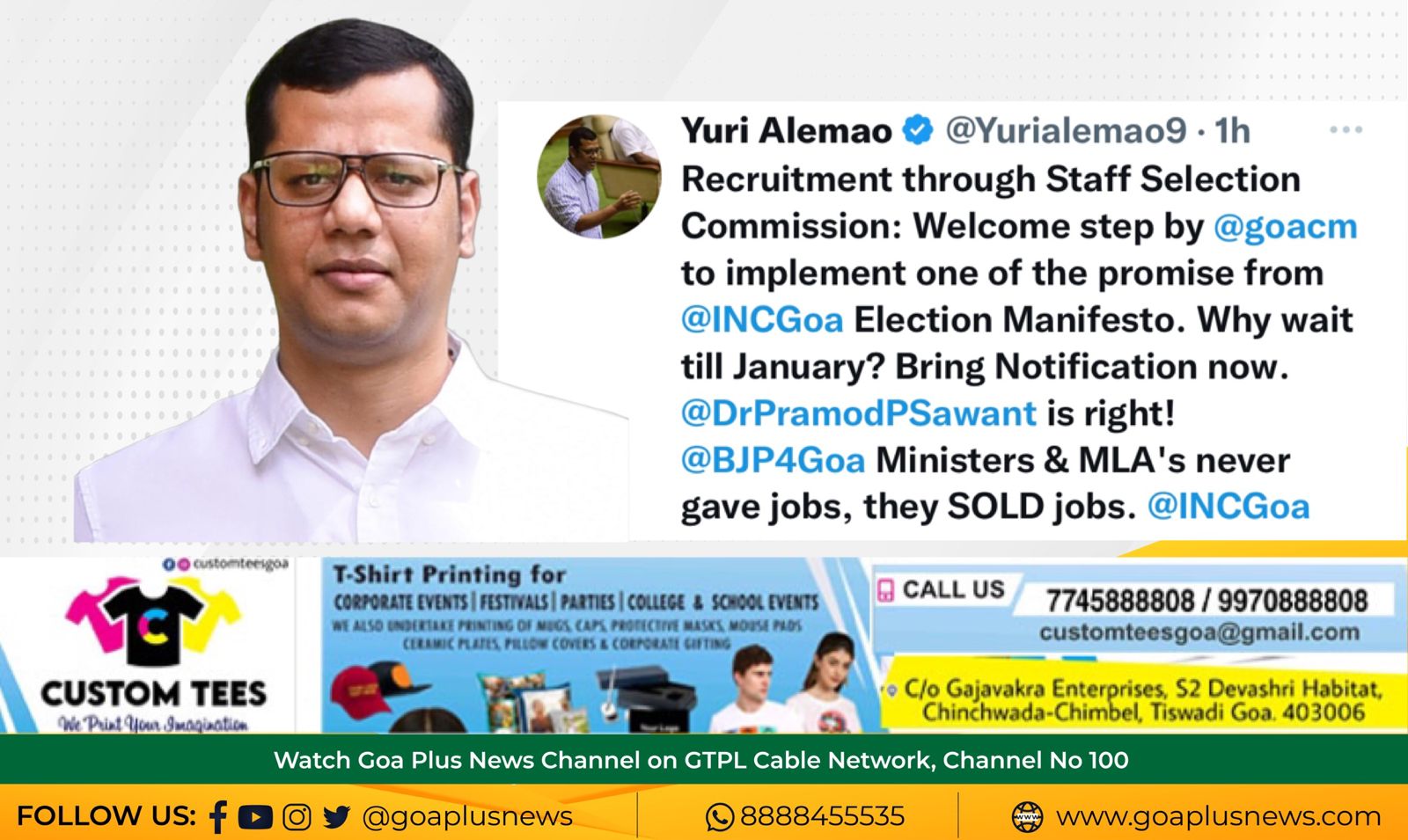 Panaji – Recruitment through Staff Selection Commission is a welcome step by the Chief Minister of Goa to implement one of the promise from Congress Election Manifesto. Why wait till January? Bring Notification now. Dr. Pramod Sawant is right! BJP Ministers & MLA's never gave jobs, they sold jobs, stated Leader of Opposition Yuri Alemao.
Reacting to the statement made by Chief Minister Dr. Pramod Sawant at the Mega Job Fair, Yuri Alemao shot back demanding that BJP Government should have the same alacrity in bringing SSC notification, which they displayed while bringing an ordinace to grab power in municipal election. He also hit out at BJP Government on Recruitment Scams.
Chief Minister Dr. Pramod Sawant is absolutely right. BJP Ministers, MLA's and Office Bearers never gave jobs to deserving youth, they sold jobs. The recruitment scam was patronised by the Chief Minister himself who amended the Staff Selection Commission norms in 2021 to encourage Sale of Jobs through departmental recruitments, charged Yuri Alemao.
This is a good begining although bit late. I urge Chief Minister Dr. Pramod Sawant to read every word of "Roadmap for Goa Vision 2035" prepared by Congress Party and start implementing it. This Roadmap is prepared based on Goa Vision 2035 document prepared by eminent experts. It will help in resolving all issues of unemployment & transform Goa into a progressive State, stated Yuri Alemao.
I demand that the notification to bring all recruitments under Staff Selection Commission should be issued immediately. There is no need to wait till January, let there be transperancy from today onwards, Yuri Alemao said.
I also want to draw the attention of the Chief Minister to the 130 striking workers at Verna Industrial Estate. Government must intervene to ensure that their services are regularised. Congress Party will not allow Goan youth to be made scapegoats for facilitation of Maharashtrians, warned Yuri Alemao.