Purification of mind happens with recital of Shlokas and Devotion of God – Srimad Vidyadheesh Teerth Swami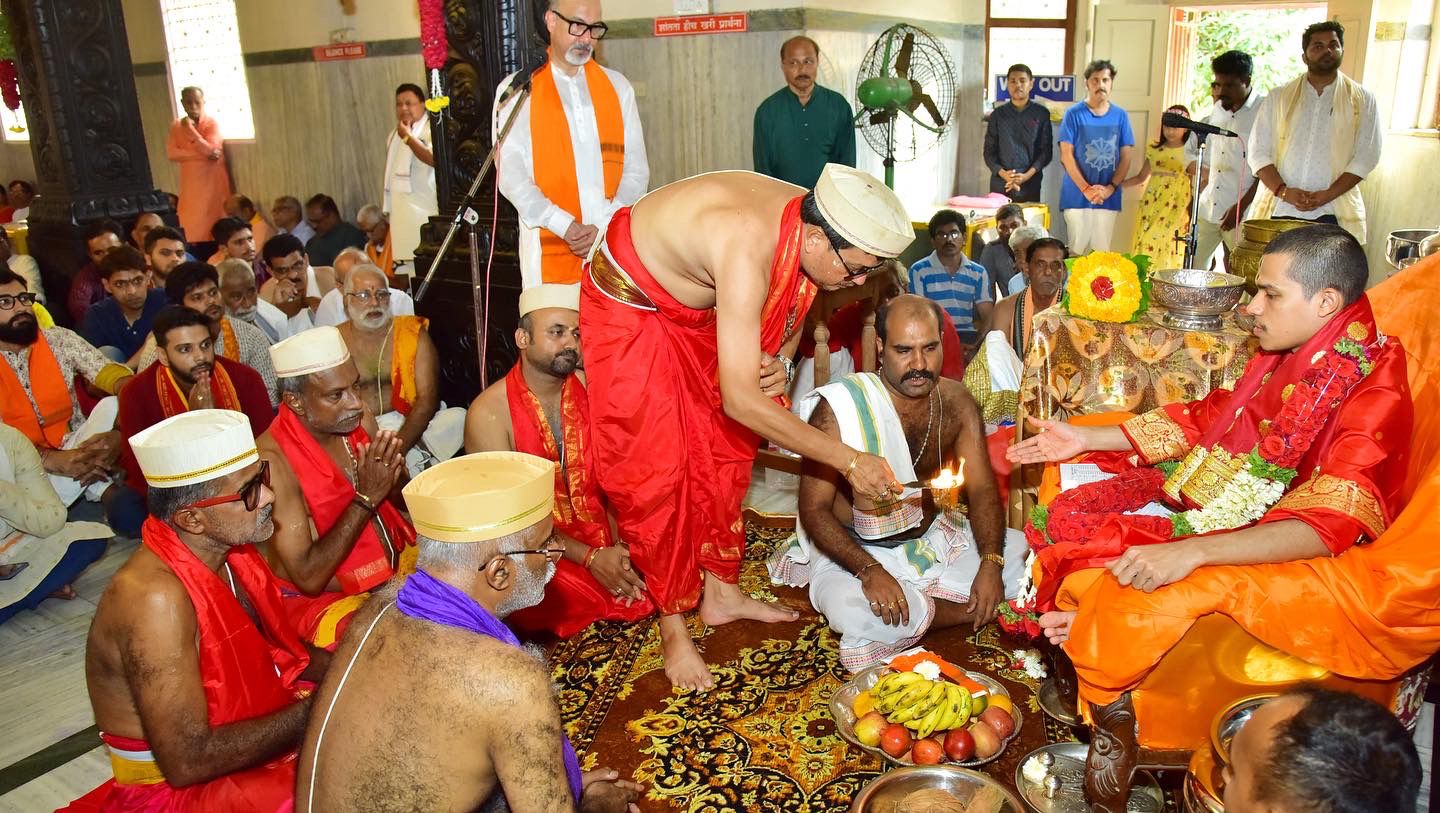 Panaji – In today's modernized era of science, technology is available for purification of air, water and various other natural resources, but there is no technology available for purification of mind. Recital of Shlokas and Devotion to God helps in purification of mind, stated Shree Saunsthan Gokarn Partagali Jeevottam Mathadheesh Srimad Vidyadheesh Teerth Sripad Vader Swami.
Swamiji was speaking at the Mahapoornahuti programme of Maharudra, Mahavishnu and Shatachandi at Shree Ramnath Damodar Saunsthan at Zambaulim organized to commemorate Golden Jubilee of Shikhar Kalash Pratishthapana. Swamiji congratulated and blessed the Managing Committee of the Saunsthan for following all religious guidelines while performing the Yadnyas.
It is important that the new generation should remember their ancestors and parents. It is only with the blessings of the ancestors that an individual can progress and prosper. It is the duty of every individual to regularly remember Kuldev, Gurus and ancestors, Srimad Vidyadheesh Swamiji said.
Srimad Vidyadheesh Swamiji was welcomed with Mangal Vadya, Poornakumbha, Deeparaadhana by Suvasinis on his arrival at the Saunsthan. The Palakhi procession of Lord Damodar was taken from the temple to the Yadnya Mantap in the presence of Swamiji who later attended the Mahapoornahuti of Maharudra, Mahavishnu & Shatachandi Yadnyas.
Padyapooja of Swamiji was performed by Rahul Prabhu Khope in the presence of Saeish Hegde, Ganadheesh Shenvi Kunde, Manjunath Pai Dukle and Mahesh Naik. Managing Committee members Amey Bhobe, Gajanan Kunde, Amit Hegde, Atish Dukle and Thalakar Saeish Ratnakar Zambaulikar were also present during the Padyapooja.
Earlier, president Manjunath Pai Dukle in his welcome address said that he was feeling blessed to perform his Seva as the president of the Saunsthan during the historic Pindikotsav Centenary Celebrations and Shikhar Kalash Pratisththapana Suvarn Mahotsav. I feel extremely happy with the Divine presence of Swamiji, Manjunath Dukle said. He thanked Kumthekars, Hegdekars and the local residents of Zambaulim for their co-operation to make the programmes a grand success.
It was with the active participation and wholehearted support of Siddhesh Prabhu Desai, Bhavesh Zambaulikar and others that such a grand event could conclude with complete success, stated Manjunath Dukle.
Srimad Vidyadheesh Teerth Swamiji felicitated Archak Balu Bhat for his selfless service in performing various religious rituals. Vishal Pai Cacode was also felicitated by Swamiji for his contribution in managing various events organized by the Saunsthan during 100 years of Pindikotsav and 50 years of Shikhar Kalash Pratishthapana. Both were presented with a Shawl, Sovale, Portrait of Lord Dambab and Fal Mantrakshada at the hands of Swamiji.
Today's function was attended by hundreds of devotees from Goa, Karnataka and Maharashtra. The floral decoration infront of the Garbagruha was centre of attraction. In the night, Gautami Hede Bambolkar and Akshay Naik enthralled the audience in the musical concert "Swar Barsat" which was followed by Aarti & Prasad.