Obsessed with event management, publicity hungry BJP leaders violate law and insult God- Amarnath Panjikar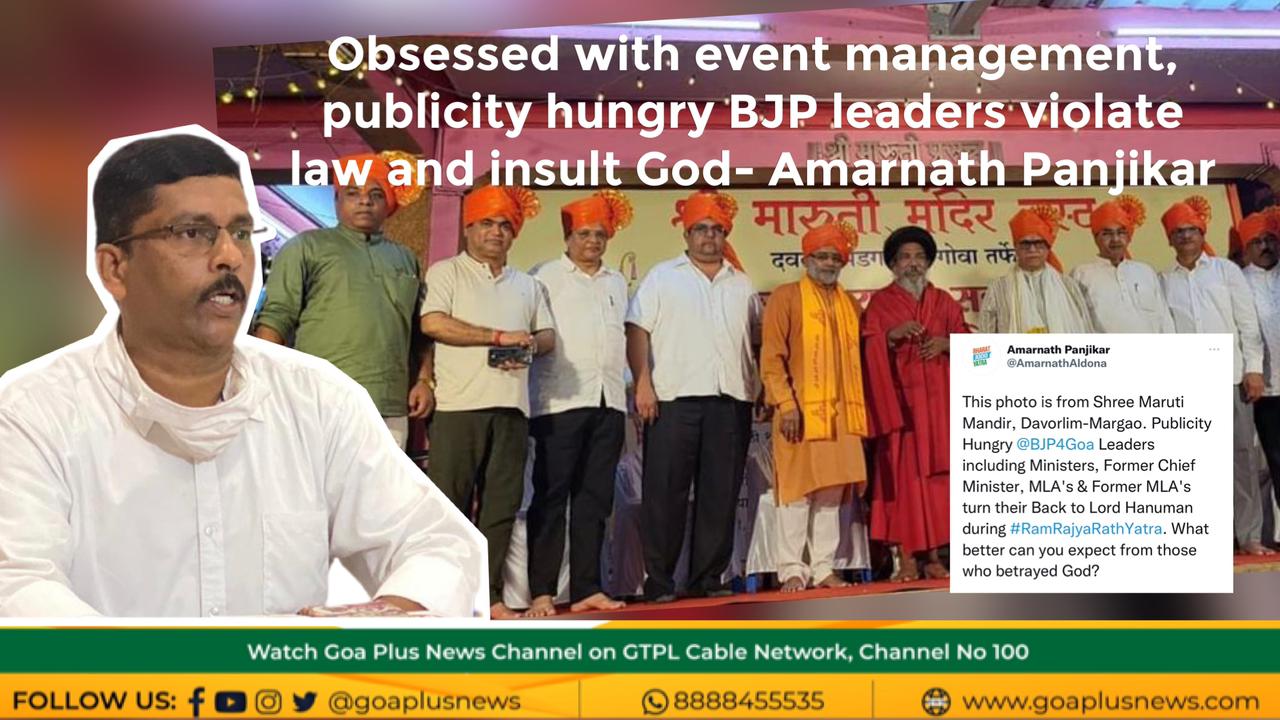 Panaji – Mahatma's last words were "Hey Ram". Every Indian wants "Ram Rajya". Unfortunately, rules are violated in the name of Shree Ram. Will Chief Minister Dr. Pramod Sawant & Transport Minister Mauvin Godinho explain how the vehicle converted into "Digvijay Rath" which violated Motor Vehicles Act was allowed in Goa?questioned Congress Media Cell Chairman Amarnath Panjikar.
He was reacting to the Ram Rajya Rath Yatra which arrived in Goa today and prominently welcomed by Chief Minister & other Cabinet Ministers, former Chief Ministers, present and former MLA's and other BJP leaders. C
ongress Media Cell Chairman also questioned the photograph clicked at Shree Maruti Temple, Davorlim, Margao wherein Ministers Ravi Naik, Nilesh Cabral, MLA's Digambar Kamat, Ulhas Tuenkar, Aleixo Reginaldo Lourenco, former Deputy CM Chandrakant alias Babu Kavlekar and others are posing for a photograph turning their back to Lord Hanuman.
"The photograph circulated by BJP Leaders is from Shree Maruti Mandir, Davorlim-Margao. Publicity Hungry BJP Leaders including Ministers, Former Chief Minister, MLA's & Former MLA's turn their Back to Lord Hanuman during Ram Rajya Rath Yatra. What better can you expect from those who betrayed God? questioned Amarnath Panjikar.
Our culture and tradition is to sit infront of God facing the Idol. It is disgusting that the BJP Leaders are using Lord Shree Ram for political mileage. They violate rules, insult God to seek cheap publicity. The act of BJP leaders will certainly not bring Ram Rajya; it will promote Ravan Rajya, charged Amarnath Panjikar.
Whenever elections are around, BJP comes out with such yatras. Few years back, BJP's Margdarshak Mandal Member Lal Krishna Advani had taken out Rath Yatra. BJP's frontal organisations like Vishwa Hindu Parishad had collected lakhs of bricks to construct Shree Ram Temple at Ayodhya. Today, the construction is on with marbles & granites. What happened to those bricks? Amarnath Panjikar asked
I demand that Transport Minister Mauvin Godinho who always gives sermons to others must open his mouth now and give explanation to the Goans, how the vehicle violating rules was allowed on Goan roads