Jazz Trio Nunataq's cool Greenland-inspired vibes took the heat out of Goa's summer
Concert was held at Hideaway Café and Bar, Vagator, Goa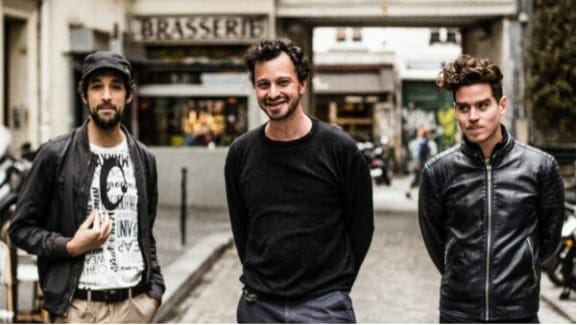 As part of Bonjour India, Goa beat the heat listening to the cool jives of the jazz trio Nunataq. The band performed on May 4, 8:30 pm onwards at Hideaway Café and Bar, Vagator. Nunataq plays experimental jazz and is led by the progressive jazz pianist Alexandre Herer. It is an open project that is nourished by Alexandre's many experiences and collaborations with musicians rich in a powerful artistic universe. The band plays music that is deliberately open, airy, and cold; partly inspired by vast iced stretches such as Greenland. In such regions, the climate has remained unchanged for eons, yet it is imperiled by today's humanity. The event was part of the Bonjour India festival, an artistic, cultural, educational, and literary initiative by the Embassy of France and its cultural service Institut Français en Inde, the Alliance Française Network, and the Consulates of France.
Alexander Herer has experimented for ten years with his favorite instrument – the Fender Rhodes. Through his collaborations with musicians such as Magic Malik, Jozef Dumoulin, Marc Ducret, Stéphane Payen, Julien Pontvianne, and Olivier Laisney, Alexandre Herer gradually became familiar with many musical concepts, written repertoires, and improvisation techniques. The band's signature style can best be described as a subtle tension between motricity and ambient-like contemplative stillness. During the concert in Goa, Alexander Herer played the keyboard, Gael Petrina played bass, and Pierre Mangeard was on drums.
Speaking about the performance Mr. Tanish Thakker, director of Gatecrash, partner and organizer of the Nunataq tour in India, said "Goa was an ideal venue for Nunataq to perform. The contrast between the band's cool and contemplative musical style and the city's warm and upbeat tempo produced an atmosphere in which extremes like hot and cold, meditative- stillness and vibrancy became intertwined and played with each other. The city's cosmopolitan atmosphere and audience added to the performance. The city is a home of sorts to thousands from every part of the world. The concert served to bring many together especially after the pandemic."
Bonjour India celebrates the partnership between India and France by providing easy access to French and Indian cultural arts. Bonjour India's events are meant to entertain audiences of all ages and backgrounds and to lead to lively and friendly discussions.