Immense Contribution of Congress to Pre & Post Independence Era of india is Eternal Truth- Amit Patkar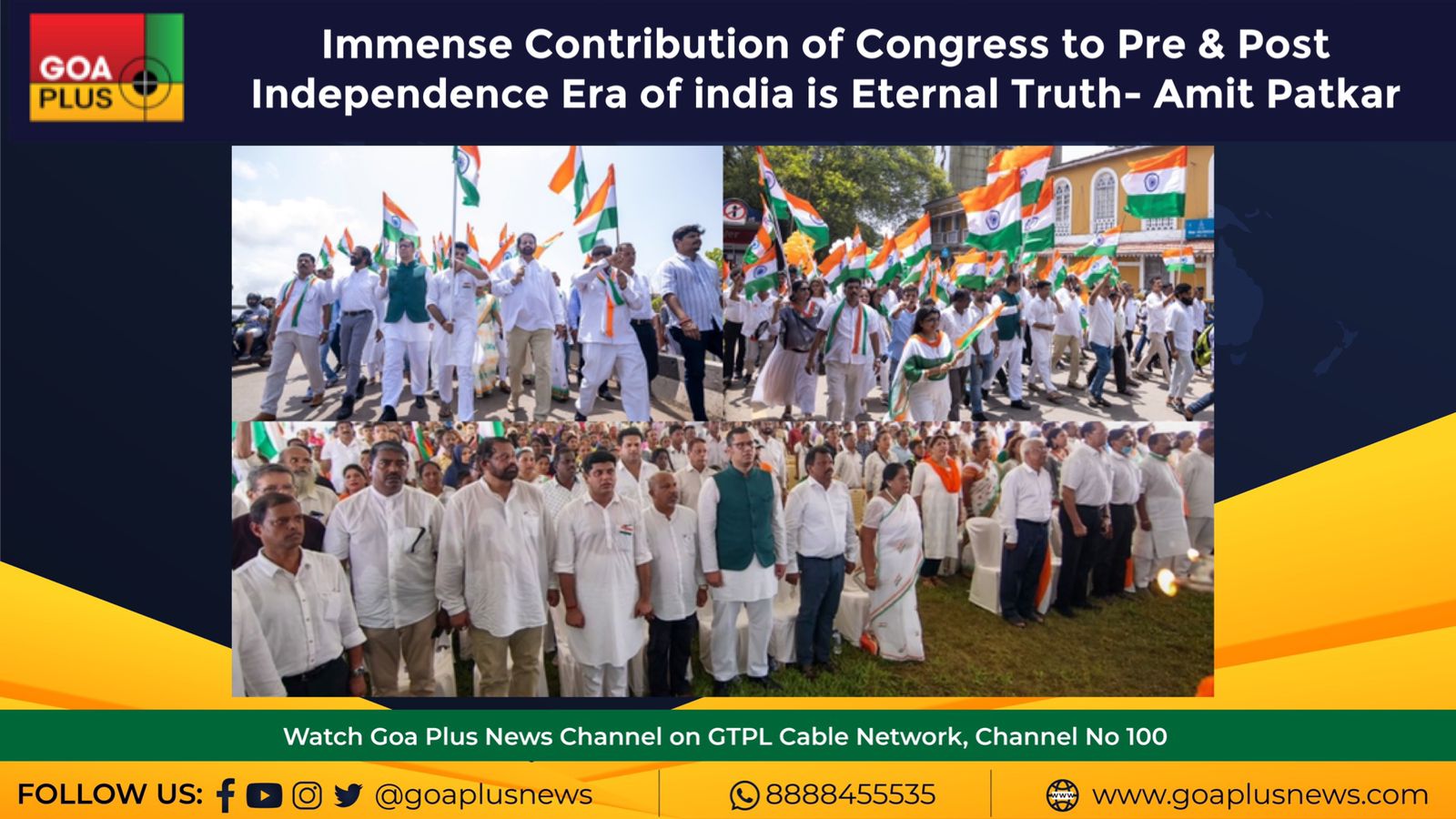 Panaji – Indian National Congress has immensly constributed to development, progress & prosperity of India. Congress Party is a Movement which fought for the Freedom of India. Congress Party's immense contribution to pre and post Independence Era of India is "Eternal Truth" stated Goa Pradesh Congress Committee President Amit Patkar.
He was speaking during the Patriotic Programme at Azad Maidan to commemorate 75 years of Independence of India. Congress Working President Yuri Alemao, Senior Vice President M K Shaikh, Deputy CLP Leader Sankalp Amonkar, MLA's Adv. Carlos Alvares Ferreira, Altone D'Costa, Rodolfo Fernandes, Michael Lobo, Rajesh Phaldessai and other functionaries were also present for the function.
It is due to vision of our leades like Mahatma Gandhi, Pandit Nehru, Sardar Patel, Lal Bahadur Shastri and others that India could get Independence & the nation could progress fast, Amit Patkar said.
He said that no one will be able to tarnish the image of Pandit Nehru and other Congress Leaders by creating false and fabricated narratives.
Most of the milestone policy decisions in Socio Political Sectors, Science & Technolgy, Sports & Culture, Heath & Agriculture were taken by successive Congress Governments. No political party can deny the role of Congress in significant progress of India, stated Working President & MLA Yuri Alemao while addressing the gathering.
South Goa Member of Parliament Francisco Sardinha in his speech urged the people to pass on the great history of India to next generation and place before them fact & figures.
Earlier Capt. Viriato Fernandes welcomed the large Congress Functionaries who had also participated in "Freedom March" which began from Divza Circle. Freedom Fighter Rohidas alias Daad Dessai was felicitated on the occasion. Congress Leaders also paid respect at Martyrs Memorial by offering floral tributes. Congress Leader Amarnath Panjikar compeered the event.
In the morning, Flag Hoisting was also done at Congress House by President Amit Patkar and other Office Bearers & Workers.
South Goa District President Savio D'Silva, North Goa District President Virendra Naik, Mahila Congress President Beena Naik, Youth Congress President Adv. Varad Mardolkar, Seva Dal Chief Jaidev Aapa Gaonkar, NSUI President Naushad Chaudhari and many other Congress Functionaries participated in the celebrations.
A documentary on "75 years of India" was shown and patriotic dance performances were also presented during the event.