#iffi53 pays Homage to Melody Queen Lata Mangeshkar
IFFI invites delegates to relive the soulful memories of "Tere Mere Milan Ki Yeh Raina"
"Music is in every aspect of Indian lives": Lata Mangeshkar at IFFI 33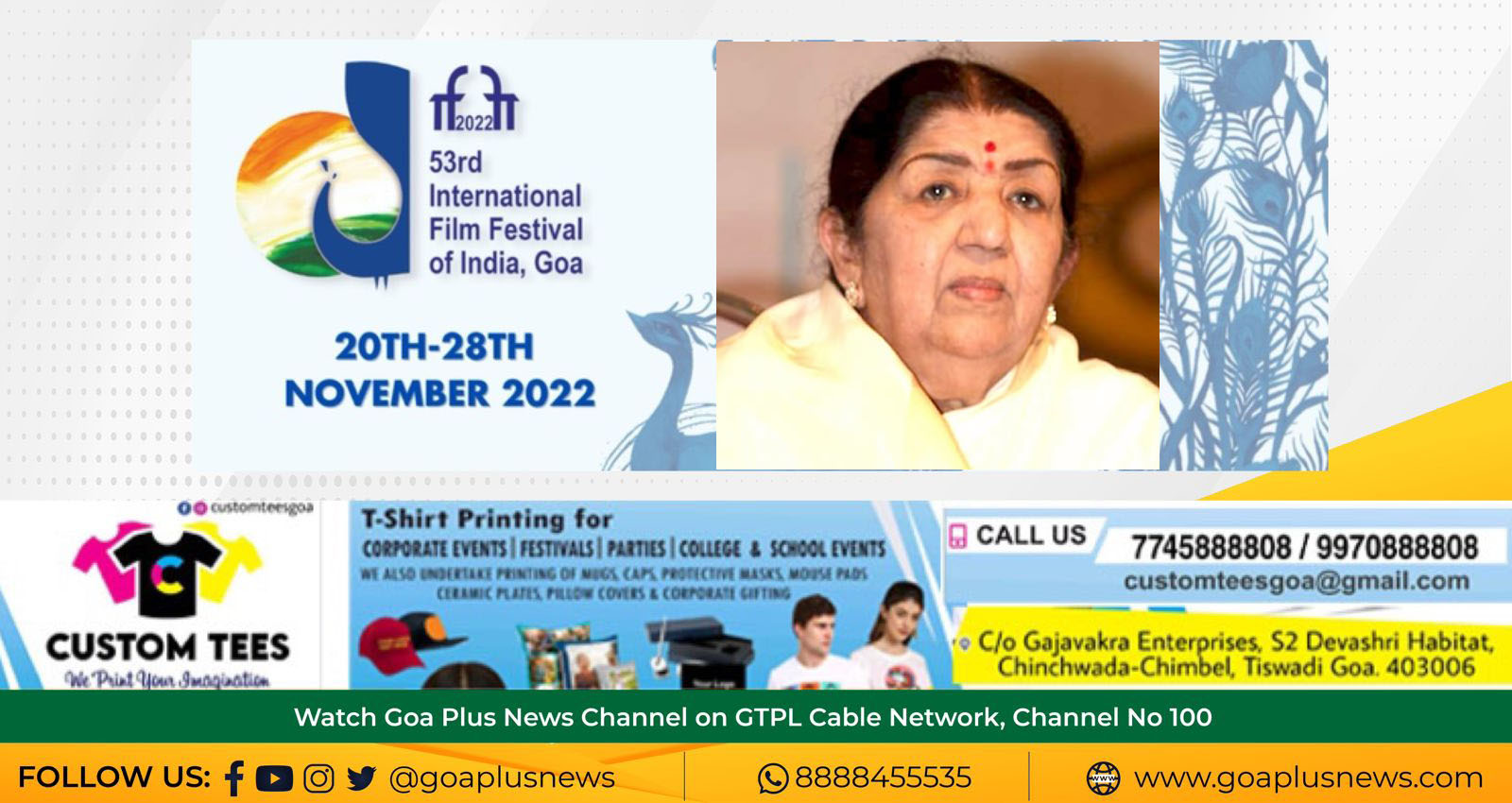 November 12, 2022
Life may be short and finite, but art transcends time and space, making the artist live on in our minds and hearts. The 53rd edition of the International Film Festival of India is paying homage to Melody Queen Lata Mangeshkar, who passed away in Mumbai in February this year. While the veteran singer's soulful songs are one too many, each excelling her own huge contribution to Indian cinema and culture, the festival has chosen Hrishikesh Mukherjee's 1973 musical drama film Abhimaan to pay tribute to the great artist.
The walk down the memory lane into the soulful 70s of Indian cinema presents a double blessing to Indian and international audiences, both young and old. They will get to connect and reconnect with the traumatic interplay of love, musical ambition and ego, as played out in the lives of the lead characters Subir and Uma, portrayed beautifully by actors Amitabh Bachchan and Jaya Bachchan. What is more, film lovers will get to immerse themselves in this most foundational of life struggles, being soaked in the angelic beauty of the heartrending renditions of iconic songs such as "Tere Mere Milan Ki Yeh Raina", "Teri Bindiya Re" and "Nadiya Kinare", sung by none other than Lata Mangeshkar. The other songs in the film, to which Lata Didi, as she is affectionately known among film lovers, has lent her timeless voice and character include "Ab To Hai Tumse Har Khushi Apni" and "Loote Koi Man Ka Nagar".
Keep Indian Culture and Civilization close to your Hearts: Lata Mangeshkar at IFFI 33 Inaugural
As we pay tribute to the great singer, it would be fitting to recall her message to filmmakers and film lovers, at the 33rd edition of IFFI, held in New Delhi in October 2002.
Inaugurating the festival, Lata Mangeshkar called upon filmmakers not to forget the rich Indian culture and civilization, to guard against being overtaken by technological advancement. She asked fellow artists to keep in mind the tireless efforts of the great pioneers of Indian Cinema such as Dada Saheb Phalke and other countless artists who made enormous sacrifices and worked in most trying circumstances to achieve great heights for the Indian film industry. She reminded IFFI 33 delegates that artists from all parts of India contributed to the development of Indian film industry.
Referring to the great contribution of music to Indian films, Lata Mangeshkar said that music is embedded in every aspect of Indian life and society; it has not only enriched but has also given a unique identity and recognition to Indian films. Praising the efforts of the-then Information and Broadcasting Minister Sushma Swaraj for popularizing Indian films in other countries, the thrall of generations of music lovers hoped that the industry would achieve new heights in coming years.
Lata Mangeshkar: A Life Dedicated to Music
Lata Mangeshkar was born on September 28, 1929, to a Marathi and Konkani musician Pandit Deenanath Mangeshkar. Originally named Hema, she was the eldest of five siblings, including veteran singer Asha Bhosle. Her father Pandit Deenanath Mangeshkar was a classical singer and theatre actor.
Lata Mangeshkar recorded her first playback song for a Marathi film, Kiti Hasaal, at the age of 13, and even acted in a Marathi film, Pahili Mangalagaur in the year 1942. In year 1946, she recorded her first Hindi film playback song for Aap Ki Seva Mein, directed by Vasant Jogalekar.
In 1972, Lata Mangeshkar won the first National Award for Best Female Playback Singer for the film Parichay. Over the years, the veteran singer won numerous national and international awards including the prestigious Bharat Ratna, the title of Officer of the French Legion of Honour, Dadasaheb Phalke Award, three National Film Awards, four Filmfare Best Female Playback Awards, Filmfare Lifetime Achievement Award and many more. In 1984, the State Government of Madhya Pradesh instituted the Lata Mangeshkar Award, while the Government of Maharashtra also instituted a Lata Mangeshkar Award in 1992 to promote singing talent.