How IDC MD dis-Connected from law and natural justice?
Raids and issues show cause notice to Cuncolim Industries without following procedure prescribed in the law.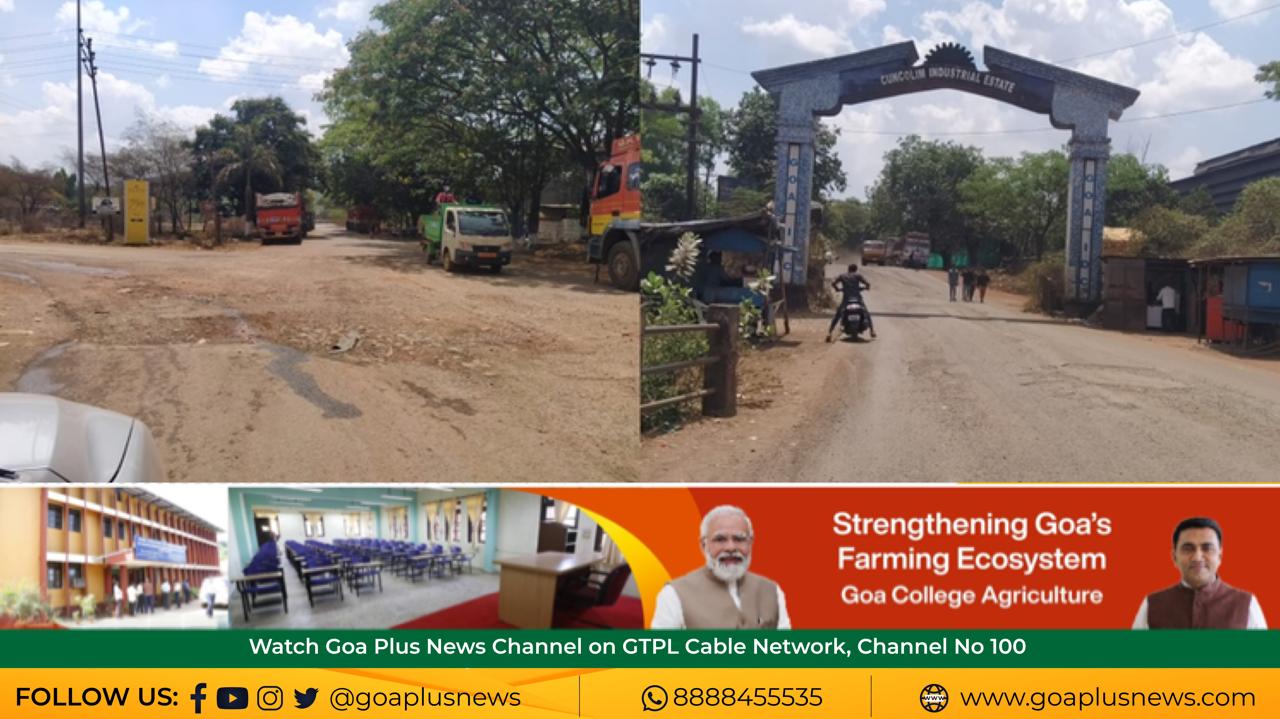 Cuncolim: On the 17th of March, the Goa Industrial Development Corporation organized an event "IDC Connect" at the GIDC office in Cuncolim Industrial Estate. The event was organized alongside an awareness campaign of various schemes available for industry stakeholders.
Around 1 pm, the Managing Director P. Pravimal Abhishek unilaterally decided to conduct inspections of the industries in Cuncolim along with officials including the Labour Commissioner, the Police Inspector of Cuncolim Police Station and the Inspector of Factories and Boilers. The officials were stunned since they were not given any prior intimation and hence were not prepared to carry out the inspections on such short notice.
In what can only be described as a scene for the movie Singham, the IDC MD barged into the factories without any prior notice, kicked open doors, man handled the labour who were resting in the rest rooms, dragged them out and threatened them to leave the premises and then threatened the managers of arrest for allegedly violating the IDC rules. He even wanted to seal the factories for the alleged violations but didn't find support from the other officials.
The officials raided around 8 factories including Sagar Feeds & Food Processing Industries, Quality Marine Products, M/s. Quality Foods, Quality Exports, Orange Fox Steel, Shraddha Ispat and a few other factories. After the raids, around 80 factors in Cuncolim IDC were issued show-cause notices, more than 20 of which were against alleged illegal residential premises within the factories. Goa Plus News couldn't yet confirm the actual number of notices sent to the industries.
IDC-Connect
P. Pravimal Abhishek's proactive and authoritarian style of functioning has attracted praise and administration from ministers like CM Pramod Sawant and Industries Minister Mauvin Godinho who perceive him as a no-nonsense officer who will go out of his way to get things done in a giving timeframe. In fact, during a speech delivered at an IDC-Connect event in Verna IDC on 10th February, Godinho described Abhishek as a "futuristic thinking individual". At the same event, the Chief Minister called Abhishek a "big Sardar" who will "take care of everything". Sawant praised Abhishek for taking the initiative and starting IDC-Connect program, reducing the number of steps for advertising industrial plots from 19 to 4 steps, initiating DGPS survey of Industrial Estates, and digitization of IDC services before 31st March this year.
The purpose of IDC-Connect is to bring governance to the door step of industry, redress grievances and promote the implementation of industry related schemes in Goa. During the inaugural IDC-Connect event at Verna IDC, several industrialists raised issued regarding poor roads with the IDC, water supply, illegal gaddas within IDC , parking along the road and a whole host of other issues. Similar grievances were raised at the other 6 IDC-Connect events in other industrial estates in Goa.
Interestingly, not a single industry was inspected on the days when the 6 IDC-Connect events were held. Are there no factories in these 6 industrial estates which have violated the Acts and Rules of Goa IDC and for which notices had been issued in the past? Ofcourse there are.
Cuncolim IDC-Disconnect
Why was Cuncolim IDC singled out and dis-connected from the original purpose of the IDC-Connect event. More importantly, what will be the consequence of such arbitrary raids on factories in the State? With such action on factories attract more industries or drive away prospective industrial investors.
Cuncolim industrial estate is plagued with host of issues including bad roads and unreliable water and power supply. This in spite of the fact that there are seven plants in the estate which are entirely into export. One fish processing plant owner stated that they can double their exports if factories are given support by IDC. "We manufacture raw materials for industries abroad who turn it into value added products. We too can manufacture value added products but we need support from IDC", he said. He claimed that such arbitrary raids are against the Prime Minister Narendra Modi's vision of Atmanirbhar Bharat and his goal of achieving 1 trillion dollar export.
Does IDC need a Singham?
Section 35 of the Goa Industrial Development Act 1965 states that no entry into any IDC land shall be made without giving reasonable notice to the occupier. The MD had not issued any prior notice to the factories before entering the factory premises.
By not following the procedure, the MD has not just violated the Act but sabotaged any possible future court case against the alleged violations.
On 20th March, the industries received a notice dated 17th March 2023 stating that the industries are "directed to vacate all such residential premises inside the industrial plot before 23/03/2023". In other words, the factory owners have 3 days to comply or respond to the notice. The factory owners claim that 3 days is not a sufficient amount of time to reply to the show-cause notice. Section 41 of the IDC Act states that any notice or order shall specify a reasonable period of time for complying with the order.
"We have approved rest rooms within the factory where workers can rest after their shifts. Even if the allegations of true, how can the MD expect a factory worker to find accommodation in just 3 days", questioned a factory owner who was served a notice. Another factory owner claimed that since the Covid-19 pandemic, locals refused to rent their premises to migrant labour. "We are not able to find rooms on rent for our workers since locals are afraid that the disease will spread once again. In other States, especially SEZs, the industries are allowed to build quarters for workers within their factories. Goa government will soon have to consider such an amendment because high rents add significant burden on our company's bottom line.", he added. Commenting on the actions of the MD, the factory owner stated that the MD should have first understood the issues we face and try to resolve them before passing taking such dictatorial action against us.
This is not the first time the MD Pravimal Abhishek has disregarded procedures and norms. Soon after joining the Goa IDC, he used the official IDC car to travel to his home state in Telangana. He has moved a file in IDC for the purchase of a car worth Rs 30 lakhs even though officials in his position are eligible for cars worth not more than Rs 15 lakhs.
Another interesting proposal by Abhishek has to do with the procurement of 10 DGPS units worth around Rs 20 lakhs each and a drone for the purpose of conducting a GPS based survey of the boundaries of plots within industrial estates. The total estimate for this procurement is around Rs 2.5 Cr. The purpose of the procurement is to conduct a DGPS survey of the industrial estate. After completing the survey of the industrial estates across the State, all this equipment will be handed over to the Directorate of Land and Survey Records. The DSLR had proposed to procure DGPS units but the proposal was turned down by the government. It may be noted that till a few months ago, IDC was suffering from losses and is yet to implement 7th pay commission for some of its staff and pay their arrears. IDC began earning profits after they started auctioning industrial plots in this financial year. In such a situation, some have questioned the rationale behind the corporation spending money on equipment that will be handed over to another government department, and the precedent it sets for the future. A government corporation like Goa Tourism Development Corporation can be forced to purchase expensive cars or laptops and hand them over to officials from other departments.
Singham in Seppa
Before arriving in Goa, Pravimal Abhishek Polumatha was the Deputy Commissioner and District Magistrate of Seppa , East Kameng in Arunachal Pradesh. His exit in September 2022 was preceded by mass protests led by activist Sol Dodum. Dodum and his teammate were attacked during their peaceful rally against muddy drinking water at Seppa town on April 12.
In response DC Abhishek imposed Section 144 in Seppa. "Section 144 of IPC is imposed at Seppa town on my name by the DC Seppa as if I am a criminal. Due to the imposed IPC section, I cannot roam around Seppa town with more than 3 or 4. Therefore, I have marched towards the state capital to amplify my voice and fight against corruption.", said Dodum to reporters during the rally in Itanagar on 18th April 2022. Dodum issued a 5 day ultimatum to the Government of Arunachal Pradesh to transfer Abhishek out of the State and added that he will not go back to Seppa alive till Abhishek is transferred.
By mid-May, the state government agreed to all of Dodums demands. On May 14th, Dodum announced that the demands have now been met and the Executive Engineer has been transferred and the water facilities are being corrected, that the cases have been transferred to SIT and SIC, and that the transfer of DC will be completed within a few months as per the rule.