Haier India sets a benchmark with Kinouchi 5- Star Heavy Duty Pro Air Conditioners, being awarded as the 'Best Innovative Product of the Year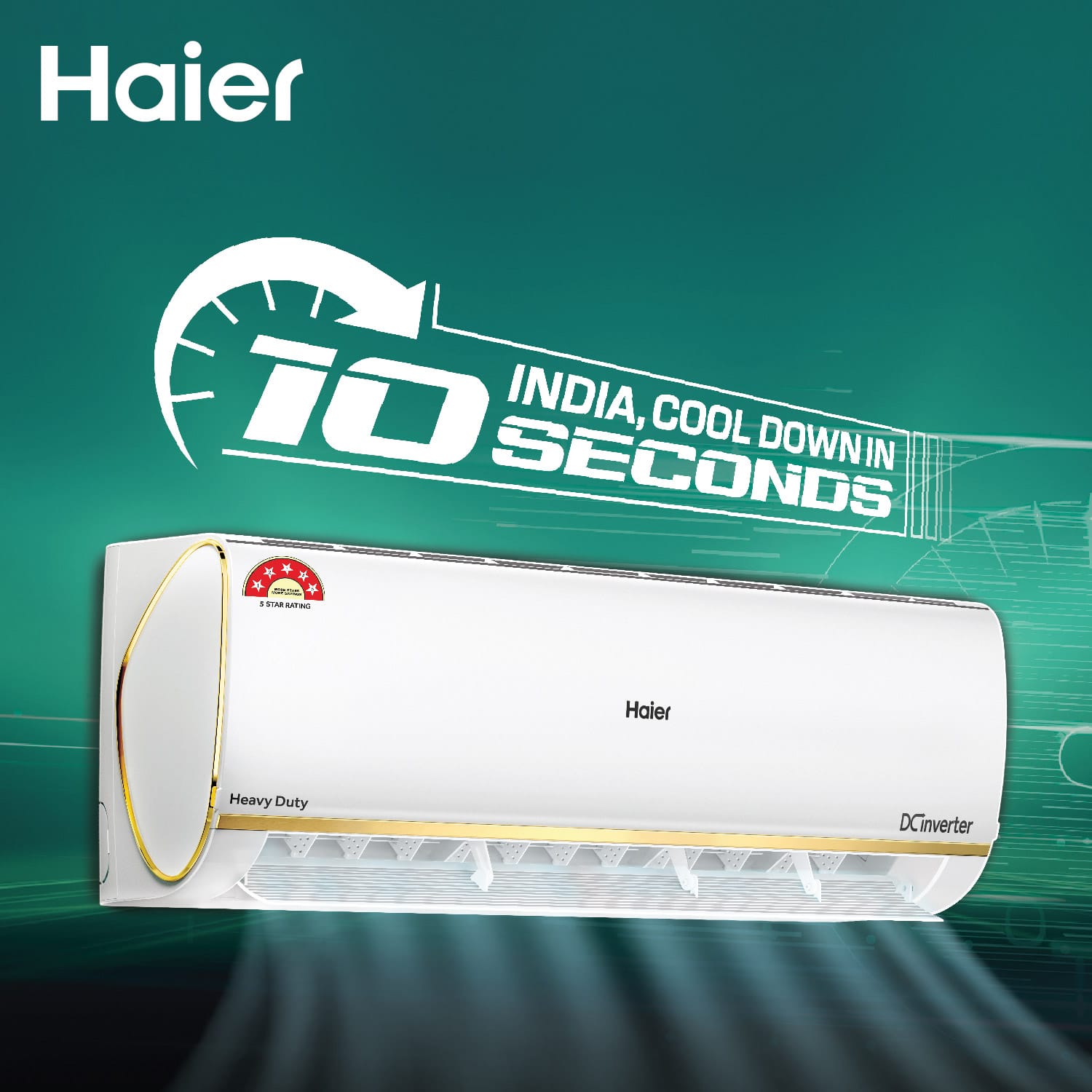 National, 30 May, 2023: Driven by its ethos of customer inspired innovation, Haier Appliances India (Haier India), the global leader in Home Appliances and the World's Number 1 brand in Major Appliances for 14 Consecutive Years, announced the exemplary performance and milestone for Haier Kinouchi 5- Star Heavy Duty Pro air conditioners. Awarded as the 'Best Innovative Product of the Year' it cools the room 20x faster and provides optimum cooling even at extreme temperatures of up to 60°C.
Speaking about the achievement, Mr. Satish NS, President, Haier India, said, "At Haier, we are focused on bringing the best-in-segment products across categories driven by well researched methodology, latest technologies and efficient manufacturing capabilities. With our presence in the Indian market for over two decades, we are proud to celebrate the Kinouchi 5- Star Heavy Duty Pro air conditioners being awarded as the 'Best Innovative Product of the Year'. Such achievements highlight Haier's commitment to deliver high-end products that meet the needs of our customers across India. We are pleased to have made a positive impact in India and are confident, that with support of our consumers, we will continue to deliver successful products, going forward."
In line with the 'Make in India' and 'Make for India' strategy, Haier has been expanding its product range in India, focusing on innovations that offer energy efficiency, durability, and convenience to its customers. The brand has successfully manufactured over 1 million Frost Self-Clean air conditioners this summer season, owing to the surge in consumer demand for air conditioners that provide energy-saving benefits and the convenience with self-cleaning feature.
In its endeavor to bring ultimate comfort to Indian homes, Haier combined the perfect blend of innovation, design, and energy proficiencies in Kinouchi Heavy-Duty Pro Air Conditioner series. They are designed to provide clean and fresh air to consumers, with features like self-cleaning, anti-bacterial filters, 10 second supersonic cooling and Intelli Convertible – 7 in 1. Equipped with Triple Inverter Plus Technology, the air conditioners further benefits consumers, delivering up to 65% energy savings to the users.
The technology quintessentially allows you to clean the evaporator of the split air conditioner, without any hassle. This task can be performed by clicking a button, giving the customers the luxury of enjoying utmost cooling with the ease of cleanliness. With the mechanism of patented inverse-balance cleaning technology, Haier AC's are equipped to self-clean themselves. The self-cleaning is carried out by the AC through defrosting, frosting, cold expansion and the mechanism to remove all the dirt that enters the machine. The double ion sterilization technique tends to clean the residual dirt and bacteria that get stored in the fans & air ducts.