Ghost of "Special Status" invoked by Modi is Haunting Goa, Will Prime Minister Free GOA From It's Evil? – Yuri Alemao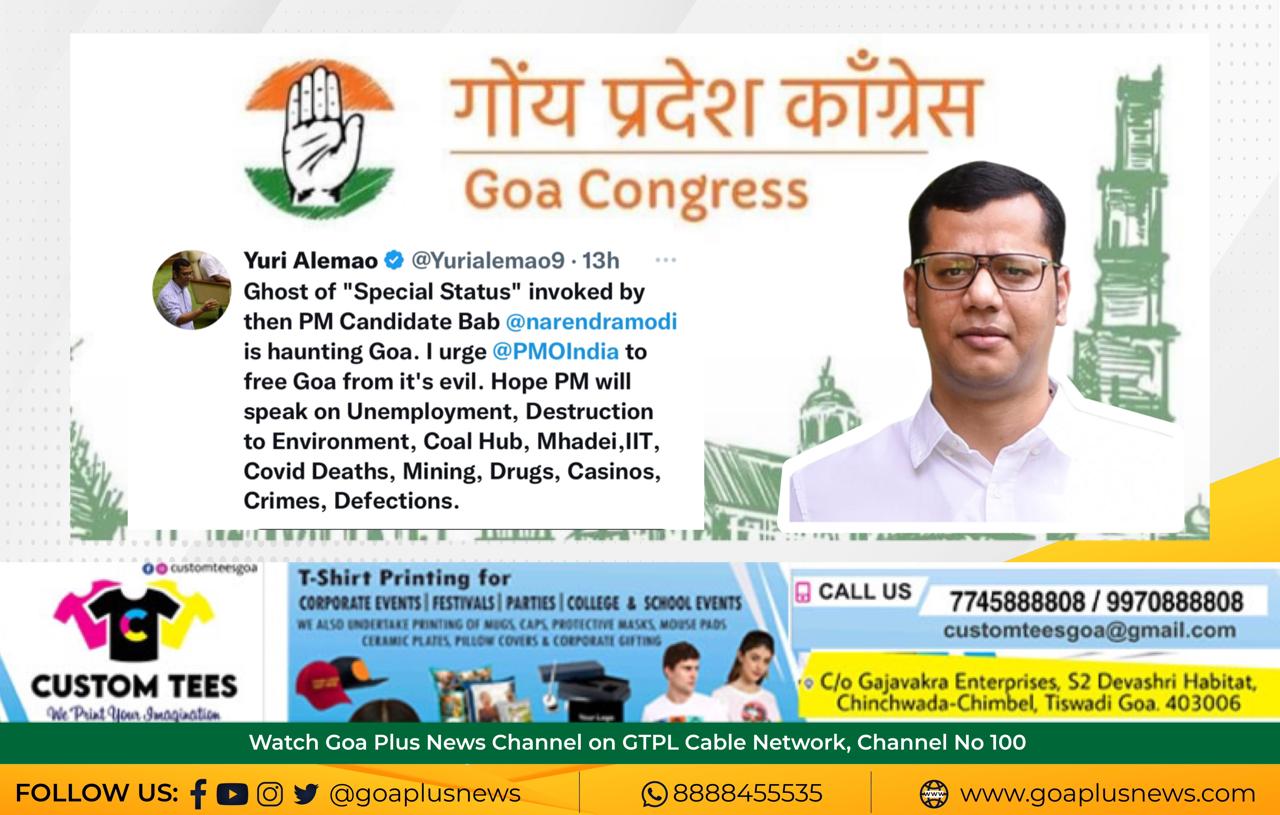 Panaji – Goa is haunted by the Ghost of "Special Status" invoked by then Prime Ministerial Candidate Narendra Modi while addressing a pubic meeting at Merces in Goa. I appeal to the Prime Minister Narendra Modi to free Goa from its evil, stated Leader of Opposition Yuri Alemao.
Releasing a video of the speech of Narendra Modi at Merces meeting in 2014 a day before Prime Minister's visit to Goa, Yuri Alemao has drawn attention of the Prime Minister on various core issues concerning Goa and urged him to speak on the same.
Goa is facing severe threat of losing its Identity due to pro-capitalist agenda of the BJP Government. Environment, Forest and Wild Life is in danger due to anti-environment, anti-farmers policies of the Government led by Prime Minister Narendra Modi, stated Yuri Alemao.
Report released by Niti Ayog headed by the Prime Minister himself has revealed the high unemployment rate in Goa. BJP Government is clueless on creating employment opportunities, said Yuri Alemao.
I hope Prime Minister will speak on hundreds of Covid Deaths due to shortage of Oxygen at GMC. I urge him to speak on status of Dabolim Airport after commissioning of Mopa Airport. I want to remind him about closure of Mining in Goa for last ten years Yuri Alemao said.
Prime Minister must speak on the proposed IIT Project at Sanguem which is pushed on Goans despite strong opposition from the local farmers who are protesting to save their cultivable land. I urge the Prime Minister to speak on the Three Linear Projects which will cause mass destruction to bio-diversity of Western Ghats. Let Prime Minister speak on illegal water diversion of our lifeline Mother Mhadei by Karnataka, Yuri Alemao urged.
Goa is under huge financial burden. BJP Government has pushed Goa into bankruptcy. BJP Government got 21 Certificates of Corruption from Goa Lokayukta after coming to power in 2012. I hope Prime Minister will speak on the same, said Yuri Alemao.
It is necessary that Prime Minister should make his governments stand clear on converting Goa into a "Coal Hub" and "Casino Capital". Prime Minister must take note of the huge wastage & pilferage of food grains from Public Distribution System in Goa, Leader of Opposition said.
I also demand that the Prime Minister Narendra Modi should come clear on the mass defections encouraged and promoted by the BJP Governments. Will Prime Minister make some annoucement on bringing in a strong anti-defection law to put an end to murder of democracy? questioned Yuri Alemao.