From the love of stock markets to becoming a Poker champion – Manash Kalita makes Goa proud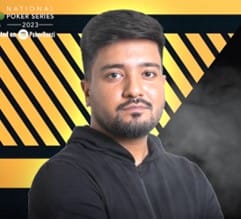 As the stage for glory is set with India's leading poker tournament – National Poker Series India (NPS) 2023, twenty-eight-year-old Manash Kalita, living in Goa and fondly known by his username Ravenclaws, has continued to set the standards high for aspiring poker players in the country. With a successful track record of garnering rewards across majority of the 349 tournaments he has participated in, he has also acquired bragging rights in 19 tournaments positioning himself on top of the charts.
Being a student of BBA finance, Manash was always intrigued by numbers and interested in pursuing finance due to his keen interest in stock markets and investments. Inspired by his friends in 2017, Manash built an inclination toward the game of poker during his college days and has not looked back since then.
Speaking about the NPS tournament, Manash said "I believe that series like NPS provides a once-a-year opportunity for budding as well as professional poker players, to grab the country's spotlight and gun for glory. I have always been regular at playing games on PokerBaazi and was eager to participate in the NPS 2021 edition and the journey continues with this year's edition. Exposure to a pool of skilled players has helped in my growth as a professional and given the exposure to get better with each game played. I hope PokerBaazi continues to create such an enriching experience for many other budding players in the years to come."