E.P.KAMAT Group Celebrates 30 Years of Excellence And Sustainability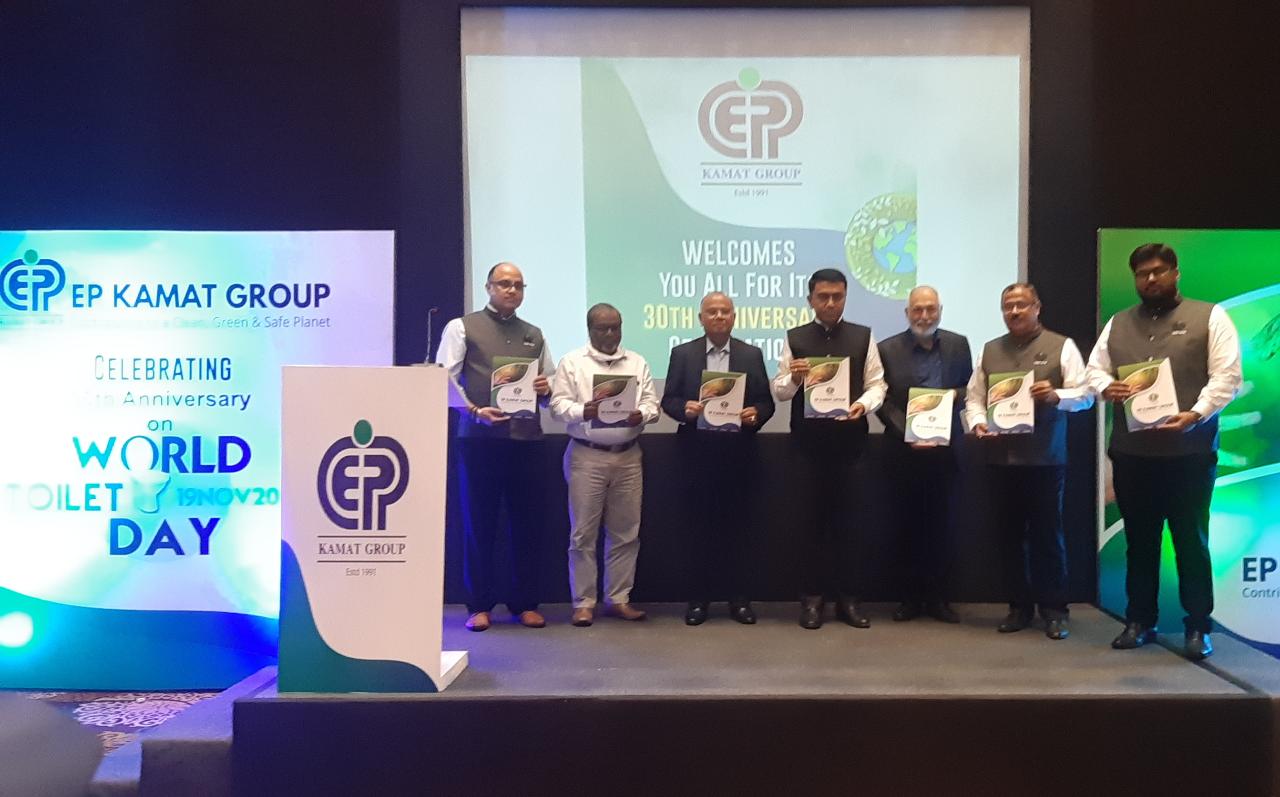 Panaji, 19th November 2021: Water has always been an essential commodity ever since the beginning of the mankind and with the growing population, there is a need to conserve more water and make India more self-sustainable. Hence, with a similar mission to help bring this change and with a clear focus on water conservation and recycling, EP Kamat Group, a renowned name in Goa & Maharashtra organised a special event on the occasion of their 30th anniversary which also coincided with World Toilet Day, making a difference to water conservation.
The event was attended by the top industrialists, water and sanitation experts and generated a lot of thought-provoking ideas on key steps to take in this direction. The focus of the conference was to address the current challenges with water conservation, what are the possible solutions, how can the industry work towards a cleaner, greener and better world and what should be the contribution and responsibilities of all the stakeholders.
The Chief Guest for the function and Hon. Chief Minister of Goa, Dr. Pramod Sawant, stated,"As we move forward, development and growth is a necessity but this needs to be balanced with Environment. In Goa we get lot of rain but it's necessary that we work on conservation on massive scale. My government would be more than willing to support efforts of NGO's and Companies on rain harvesting and other water conservation initiatives. I understand that EP Kamat Group is the only DRDO Bio Digester Technology holder in Goa and emphasizes their focus on Environment as they rightly choose the World Toilet Day to celebrate their anniversary. For last one decade, I have been seeing the progress of the company under the leadership of Mr. Rajkumar Kamat who has always taken keen interest to help entrepreneurs and focusedon building a better environment. I would like to congratulate E.P. Kamat Group for taking such a major leap towards sustainability and sanitization."
"Our vision is to create a sustainable environment and water being an important resource to every human being, it is necessary that we conserve it wisely. It is through our products that we see the potential to bring a change in our surroundings by contributing to a Clean, Green and Safe Planet. This is the motto that we live by at E.P. Kamat Group for a better and a sustainable future," said Mr. RajkumarKamat, the Managing Director of the EP Kamat Group while launchinga special initiative for the community and the commercial establishments for water conservation and recycling.
Dr. Jagat Shah who has been active in the sanitation field gave a macro view of which direction the world is moving. He also talked about the opportunities that will be coming up in view of decision at COP 26 summit.
It is important to understand that the industry and community need to see more such initiatives in this field and more individuals and companies need to join hands together if India needs to sustain itself and get out of this already critical situation it is facing with water and the ever depleting resources.
"Water literacy is an important aspect that should be emphasised on. We all need to strive towards understanding that water is the entity on which our entire ecosystem survives and ensure that we conserve it and make people aware about the same. I appreciate the steps taken by E.P. Kamat Group towards harnessing the utilisation of our water resources," said Mr. Rajendra Singh, The Waterman of India who was also present at the occasion.
Environment Minister Shri. Nilesh Cabral reiterated the need for serious actions on waste water treatment front and applauded EP Kamat Group for their continuous focus on Environment friendly products.
About EP Kamat Group:
For the past 30 years, the EP Kamat group has been a key manufacturer of the Bio Digester Toilets, STP and ETP plants and have the vision to recycle 100 million litres of water everyday in the next 4/5 years.Theyhave recently introduced the latest DRDO technology to make available bio septic tanks which are Environment friendly, cost effective and maintenance-free. They also work with top hotels, commercial establishments and industries for setting up Sewage Treatment plants (STP) and Effluent treatment plants (ETP).