Dr Pramod Sawant's BJP Govt. is Promoting "Rum Rajya" in Goa- Amarnath Panjikar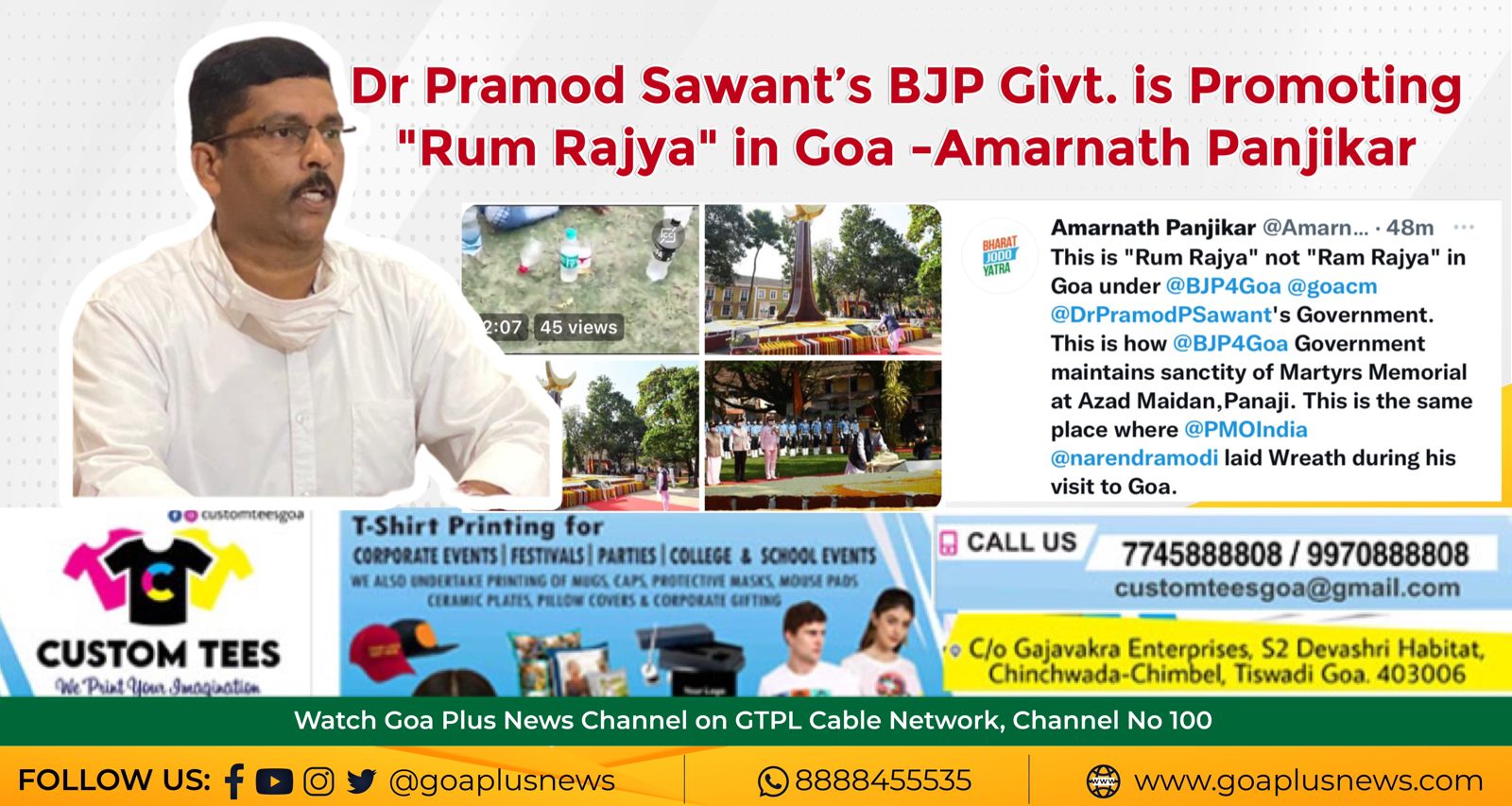 Panaji – This is "Rum Rajya" not "Ram Rajya" in Goa under BJP Government headed by Chief Minister Dr. Pramod Sawant. This is how BJP Government maintains sanctity of Martyrs Memorial at Azad Maidan,Panaji. This is the same place where Prime Minister Narendra Modi laid Wreath during his visit to Goa, charged Congress Media Cell Chairman Amarnath Panjikar.
Reacting sharply to the video of drunkards openly consuming Alcohol at Azad Maidan, Panjim which has gone viral, Amarnath Panjikar ridiculed BJP Government over its fake hindutva & so-called patriotism.
Just a week ago, we had exposed CM Dr. Pramod Sawant, Transport Minister Mauvin Godinho and other BJP Leaders who allowed a vehicle titled as "Ram Rath" to move on Goan roads in violation of Motor Vehicle Act. Some of the Ministers, MLA's and other leaders turned their back to Lord Hanuman while clicking photos as part of their obsession for publicity, pointed Amarnath Panjikar.This is how BJP insults Hindu Religion & Culture for its political gain, he said.
It is shocking that the Azad Maidan which has Martyrs Memorial, Dr. T.B.Cunha Memorial and which is just opposite to State Police Headquarters has now become an Adda of Drunkards & Gamblers. This is the proof that BJP Government has no respect for Freedom Fighters and no control on Law and Order, claimed Amarnath Panjikar.
I demand that Chief Minister Dr. Pramod Sawant, BJP President Sadanand Shet Tanawade must apologise to the Families of the Freedom Fighters and People of Goa for insulting the sentiments of people by allowing drunkards to have a free time at the sacred Azad Maidan.
I appeal to the people of Goa to realise the true face of BJP which has time and again invoked "Hindutva", "Desh Bhakti" only to take political benefits. In reality, BJP is anti-hindu and anti-national, stated Amarnath Panjikar