CSR activities by JSW to give motors to poor fishermen must not be confused with my stand on coal- Mormugao MLA Sankalp Amonkar
I am still firM that we will not allow coal Pollution at MPT and I have informed the companies that coal handling at port must be done in a dome to curb pollution effect to local residents – Sankalp Amonkar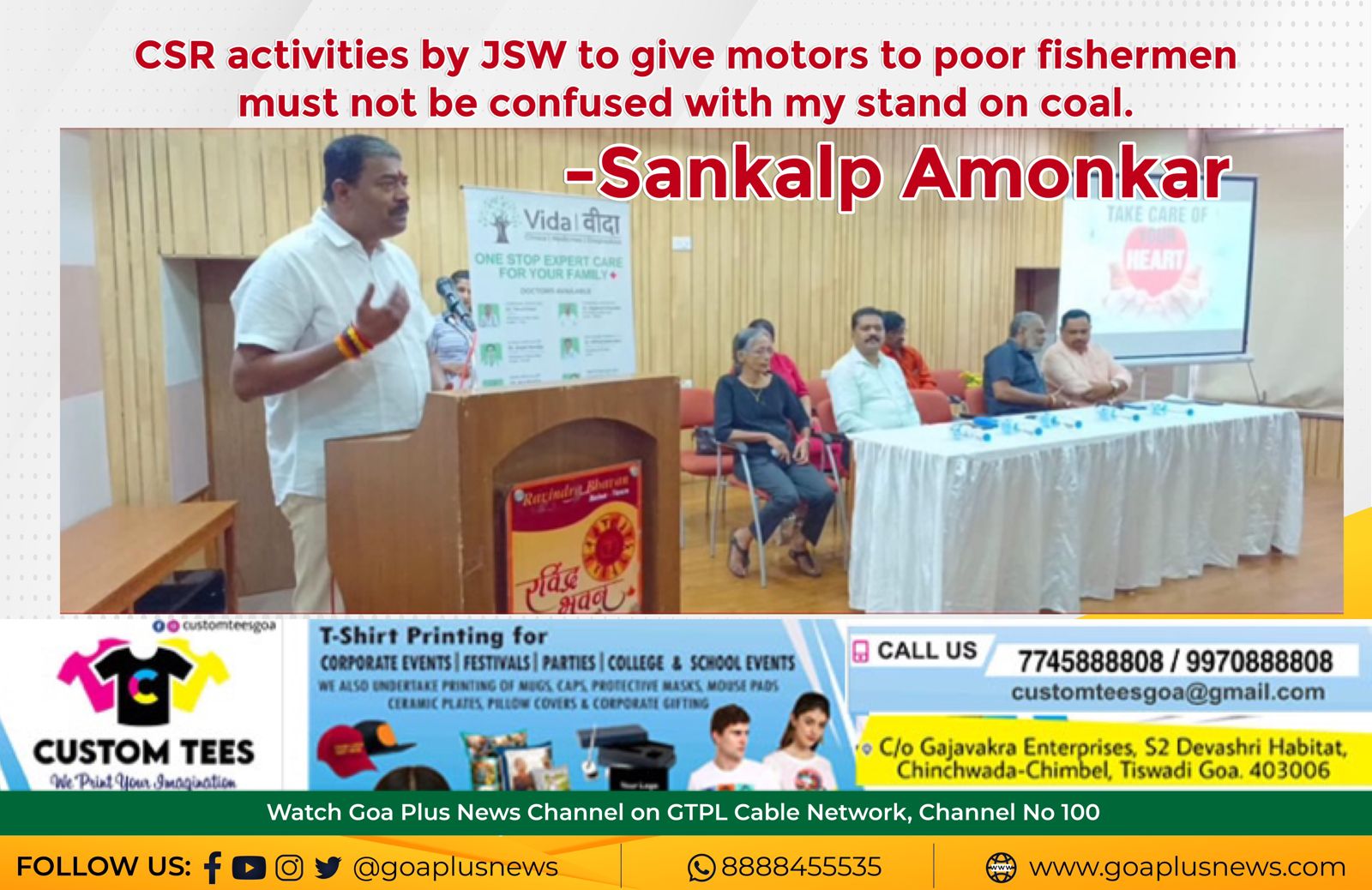 Panaji- Mormugao MLA Sankalp Amonkar on Sunday said that CSR activities by JSW company to give motors to fishermen must not be confused with his stand on coal pollution. Amonkar clarified that he was still firm on his stand that he will not allow coal Pollution at MPT and that he had already informed the companies in the port that coal handling must be done in a dome structure to curb pollution effect to local residents.
Amonkar speaking to reporters after Inaugurating the Vida Medical camp at Ravindra Bhavan said that he wanted to ensure that the Mormugao Constituency citizens always get the best of everything from health to social benefits though various initiatives taken up by him as the MLA .
" These are two seperate issues and the program on Saturday was to help each struggling fishermen with an engine motor worth Rs 1.5 lakhs through CSR activity from JSW company. We had given 32 motors to fishermen and they are happy that a company has reached out to them for a social cause because they could not afford the motor. We have now taken up a medical camp where we have called specialised doctors to offer health benefits. " Said Amonkar"
As far as my stand on coal is considered, it has remained unchanged and i still am firm that we will not allow or tolerate coal pollution in the port . My stand on coal is unchanged and I have already mentioned in my manifesto as well.
I have already told the companies in the port that henceforth they must have a dome shaped structure to curb pollution effect caused to local residents." Said Amonkar
Speaking on the health camp, Amonkar said that he had taken an initiative where health camps would be organised every three months for the benefit of the people.
" I am thankful to the Vida Foundation for this medical camp which has been taken up in association with Ravindra Bhavan. This camp is specially related to heart diseases where things like pressure will be checked and we will have free ECG and sugar checks as well. We also have a dermatologist to check for skin issues and we have seen a huge participation of the people . Such camps are a need of the hour and wr will repeat this camp again in Sada area and we plan to have different medical camps at a regular interval of every three months , specially for the people who seem to be busy with workloads and may not have the time or the resources to get themselves medically checked at regular intervals " said Amonkar