Canacona Congress Block President Pralay Bhagat warned the govt. to curb rampant corruption at Polem Check Post within 15 days or ready to face the consequences.
"Strong Demand to take steps to curb corruption at Polem Check Post, Canacona"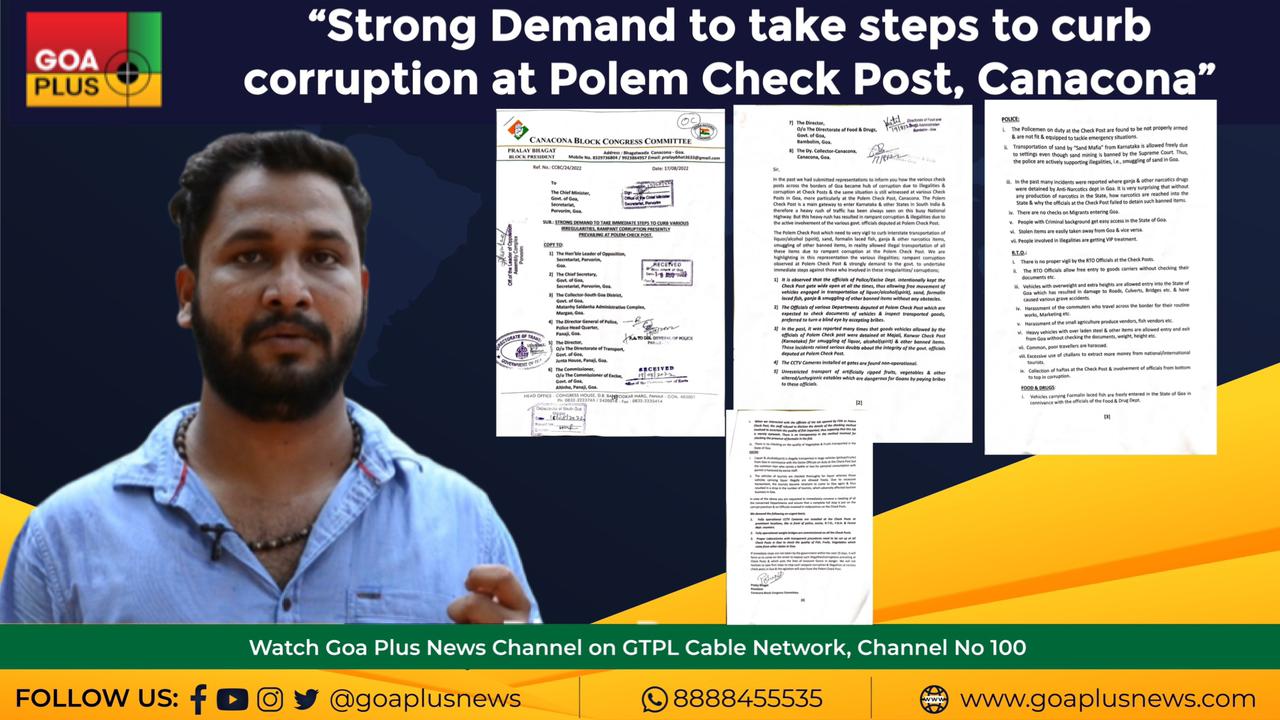 Panaji: The Canacona Congress workers had submitted memorandums to various govt. authorities demanding to take strong action to stop various illegalities & rampant corruption at various check posts across the State. But it is clear that the govt. has not taken any measures to control corruption at various Check Posts in Goa. The Canacona Congress Parivar today submitted representations to various govt. authorities again to take appropriate action on various illegalities & rampant corruption at Polem Check Post, Canacona.
We observed that police & excise personnel intentionally kept the check post gate open all the times to allow free movements of vehicles engaged in transportation of liquor/alcohol(spirit), sand, formalin laced fish, various types of narcotics/drugs & smuggling of other banned items without any obstacles, otherwise how a vehicle allowed by Polem Check Post was recently detained at Majali Check Post in Karnataka for illegally carrying alcohol(spirit)? There were many such incidents reported in the past. Again the govt. staff who are expected to check documents of vehicles, properly inspect transported goods, always neglect their duties by accepting bribes.
"It is evident that corruption is taking place in these departments, as Prime Minister Narendra Modi has himself said that corruption is the biggest challenge before the country. By exposing these corruption taking place in Goa on border, we want to tell Prime Minister to intervene and start eradicating corruption from Goa, which they couldn't do in last eight years,"
The CCTV cameras installed at gates are non-operational from many years & the govt. are not taking any action to repair it or install new CCTV cameras, thereby allowing unabated corruption at the Check Post. Due to corruption at Check Post, artificially ripened fruits, vegetables & other altered/unhygienic eatables which are dangerous for Goans are coming into the state easily.
We also submitted in detail the truth about various govt. departments posted at Polem Check Post. The Police staff deputed at Check Post are found physically unfit & not equipped with proper arm & ammunition to tackle any emergency situations. Transportation of sand by the Sand Mafia from Karnataka is allowed freely even after the blanket banned by the Supreme Court. The number of raids & the quantity of narcotics seized by the govt. exposed the checking of police at Check Posts. Migrants & people with criminal background get easy access by road in the State of Goa due to lethargy of Police.
The RTO officials at the Polem Check Post allow free entry of goods carriers without checking documents by taking bribes. Also, heavy commercial vehicles with overweight, extra heights are allowed entry which damages roads, bridges in Goa & which had been involved in many grave accidents in the past. But the same RTO Staff shows extra enthusiasm to unnecessarily harass tourists, small vendors and common people under one or another pretext. We observed how RTO fined vehicles owners & how they accept money from people to avoid bookings. It made ample clear that collection of haftas at the Check Post is a big racket & it involves all, from bottom to top in corruption.
The lab opened by the FDA at the Check Post is a big jumla as when we tried to interact with the officials to explain to us the procedure involved in checking imported fish, they refused to do so. Thus, by refusing to disclose the process of inspection, the FDA has raised serious doubts on the availability of formalin laced fish in the State. There is no check on the quality of Vegetables & Fruits transported in the State of Goa.
The Excise staff deputed at the Check Post are harassing common people who carry one or two bottles for personal consumption but allow illegal transport of liquor/ alcohol (spirit) by making settings. Even other small vehicles carrying goods are stopped by the Excise staff & only allowed after taking "chiri-miri".
Considering the seriousness of illegalities, the Canacona Congress Parivar through its representation demands the following on urgent basis;
Fully operational CCTV Cameras are installed at the Check Posts at prominent locations, like in front of police, excise, R.T.O., F.D.A. & Forest dept. counters.
Fully operational weight bridges are commissioned on all the Check Posts.
Proper Laboratories with transparent procedures need to be set up at all Check Posts in Goa to check the quality of Fish, Fruits, Vegetables which come from other states to Goa.
The Canacona Congress Parivar gave an ultimatum of 15 days to the government to take necessary steps to curb the various illegalities & rampant corruption at the Polem Check Post, failing which we will take appropriate steps to stop all these corruptions which has created unnecessary harassment for common people.