BJP Govt. Looted Goa in the Last 10yrs Under Guise of Garbage Management- Amit Patkar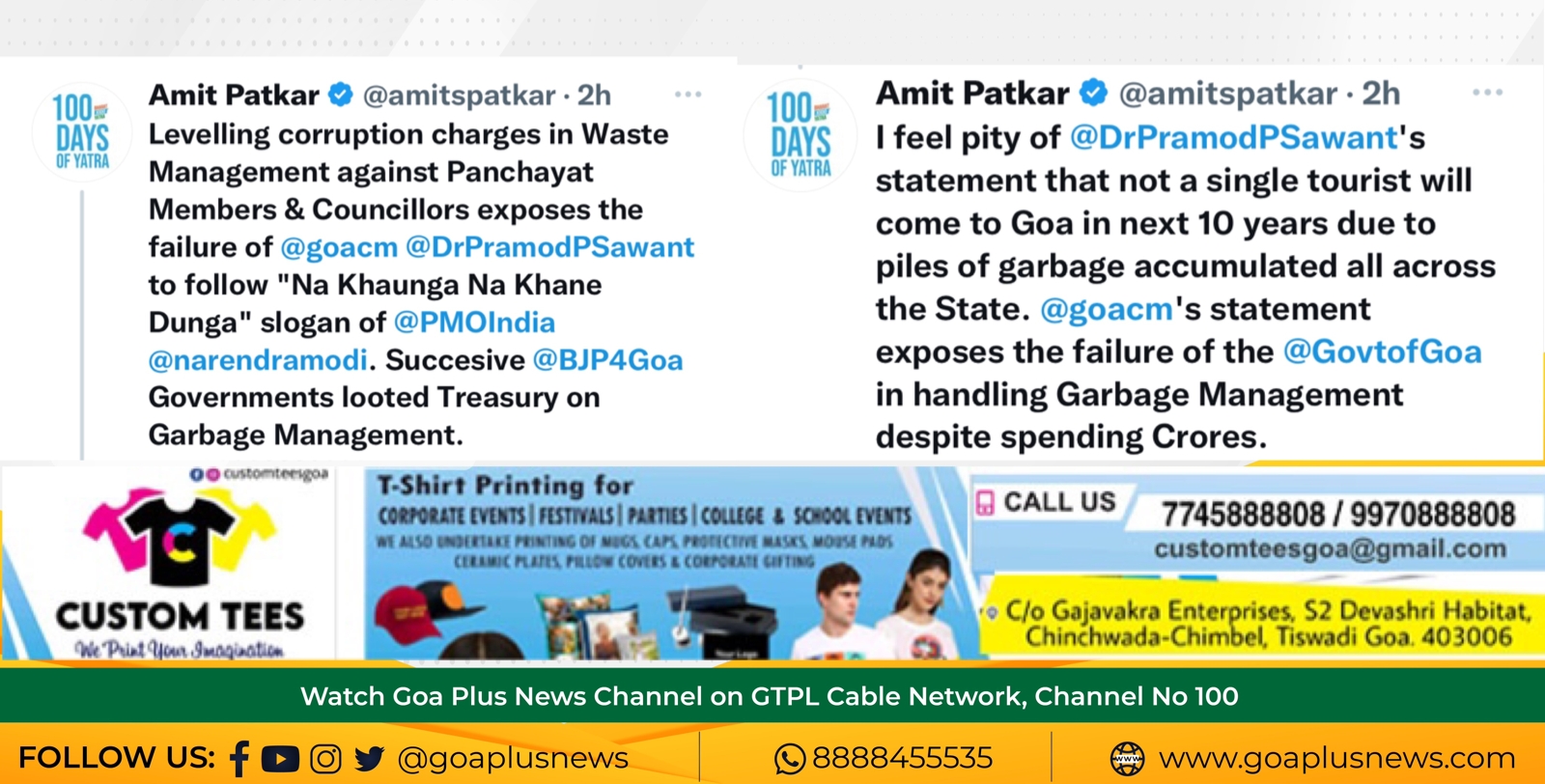 Panaji: BJP Government after coming to power in Goa has looted the State Treasury under the guise of Garbage Management. I feel pity for the Chief Minister of Goa Dr. Pramod Sawant who admitted in a Public Function that not a single tourist will visit Goa in the next 10 years due to piles of garbage accumulated across the State. The statement of the Chief Minister exposes the failure of the Government on Garbage Management, charged Congress President Amit Patkar.
I strongly condemn the statement of the Chief Minister who has alleged that the Local Panchayat and Municipal Council Members are involved in Corruption related to Waste Management. I dare the Chief Minister to disclose the names of all such members, and also explain why his Government did not act against them in last ten years, Amit Patkar charged.
BJP Government launched its "Mission 30 percent Commission" from the Goa Beach Cleaning Contract which was eventually Certified for Corruption by the Goa Lokayukta. Even today, due to huge corruption piles of garbage are seen on almost all the beaches in Goa, claimed Amit Patkar. He further said that Dr. Pramod Sawant must explain why his government did not investigate Beach Cleaning Scam.
The garbage collection contract along the National Highway has also turned out to be a Big Scam with one of the contractors looting the State Treasury as a BJP Office bearer. The documents prove that crores of rupees are paid to these contractors without monitoring the work, stated Amit Patkar.
Saligao Waste Treatment Plant commissioned at a whopping cost of almost 300 crores has even failed to cater to the garbage management of the Coastal Belt. Cacora Curchorem Plant is not yet fully operational. Government is clueless about the disposal of garbage at Sonsodo in Margao. The E-Waste Management facility at Pissurlem is not yet functional while Construction and Demolition Waste Management facility has not even seen the light of day. These facts are enough to refute the claim of the Chief Minister that 'Goa is the only State in the Country to have seven types of Waste Treatment Plants' claimed Amit Patkar.
Let Chief Minister Dr. Pramod Sawant release a White Paper on Waste Management in the State. Let him clarify why Tourism Department is still continuing with the Beach Cleaning work when there is a separate Ministry and Corporation for Waste Management stated Amit Patkar.
If the Chief Minister feels that Rs.160 crores spent on Garbage Management are a waste, he must sack his Waste Management Minister Atanassio Monserrate immediately.