Atishi slams "derogatory" attacks on Pratima Coutinho
"These comments are a reflection of Avertano's character": Atishi
Pratima Coutinho to Averatno Furtado: The women of Goa will teach you a lesson this election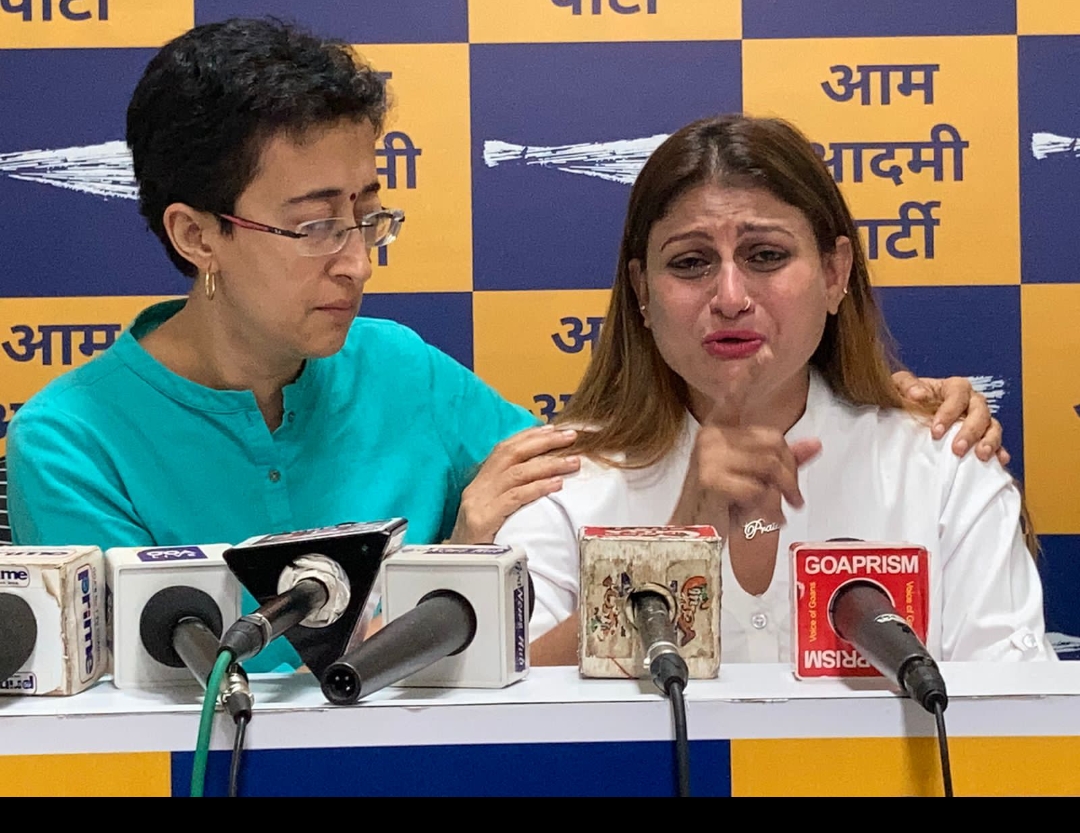 Aam Aadmi Party Navelim candidate Pratima Coutinho broke down during a press conference on Thursday while showing a video of containing "derogatory" remarks directed against her by Congress Navelim candidate Avertano Furtado and urged him to stop playing dirty politics.
Previously Pratima Coutinho stated that the BJP has fielded its ex-minister Avertano Furtado under the banner of Congress and that, if he won, he would rejoin the BJP. In addition, she said that a secret agreement exists between Furtado and the BJP. When the BJP forms the government, Furtado will be offered the sports ministry.
Furtado responded to this Wednesday by making derogatory remarks about Coutinho. He said, "Everyone knows Pratima's character. One in the morning and one at night. It seems like Pratima's head is not in the right place. She keeps saying whatever she wants. She must apologise for making such statements, or else I will file a defamation case against her".
Coutinho said she never imagined Furtado would stoop this low. "In pointing out my character, he is playing dirty politics simply because I am a woman. He does not have a vision for Navelim and so he has no points to discuss. Therefore, he is involved in dirty politics by bringing up woman's character" she said.
By making such derogatory remarks, Coutinho stated, Furtado has shown he is part of the BJP culture. The BJP has been fighting against me for the past 25 years. Every time I spoke out against their misdeeds, they filed defamation lawsuits against me to suppress my voice.
Furthermore, she stated, "As for my previous statement where I said Furtado and BJP had a secret deal, I stand by it. It is a well-known fact that he was an independent candidate in the last election, but later joined the BJP for his own selfish interests. I won't apologise for the fact that the BJP backing him under the Congress banner to gain Catholic vote share in Navelim. If he wishes to file a defamation case, he is free to do so".
Adding she said, "He should apologise for betraying the trust of Navelim people by joining the BJP for his own gain in the last election. He has bought a big field and converted it with the support of TCP and BJP. He has built a huge petrol pump in Navelim so his children will have a secure future. Navelim people know this very well".
"It's time to get rid of politicians like BJP leader who asked a girl for sexual favors in exchange for a job and another politician ensnared in a sex scandal. The other politician is facing a rape charge. They don't deserve to win. Vote for AAP this time, who respects women", she said.
AAP Goa desk in-charge Atishi said, "If Furtado had criticized Pratima's vision for Navelim or pointed fingers at AAP's policies, there would have been no problem. But he chose to speak on Pratima's character. It is a symbol of politicians who do not take care of their people and who are against women. When a strong woman such as Pratima stands up for people's rights and reaches out to them whenever they need it, such politicians start mouthing off".
Atishi wondered where Furtado was during the pandemic when Navelim people required help? "While Pratima delivered ration kits door-to-door and provided emergency medical care, Furtado was nowhere to be found", she said.