Amazon Prime members in India gear up for Prime Day 2022 on July 23 & 24
Prime members get ready to Discover Joy with Great Deals, Savings, Blockbuster Entertainment, New Launches from Top Brands & Small and Medium Businesses, and More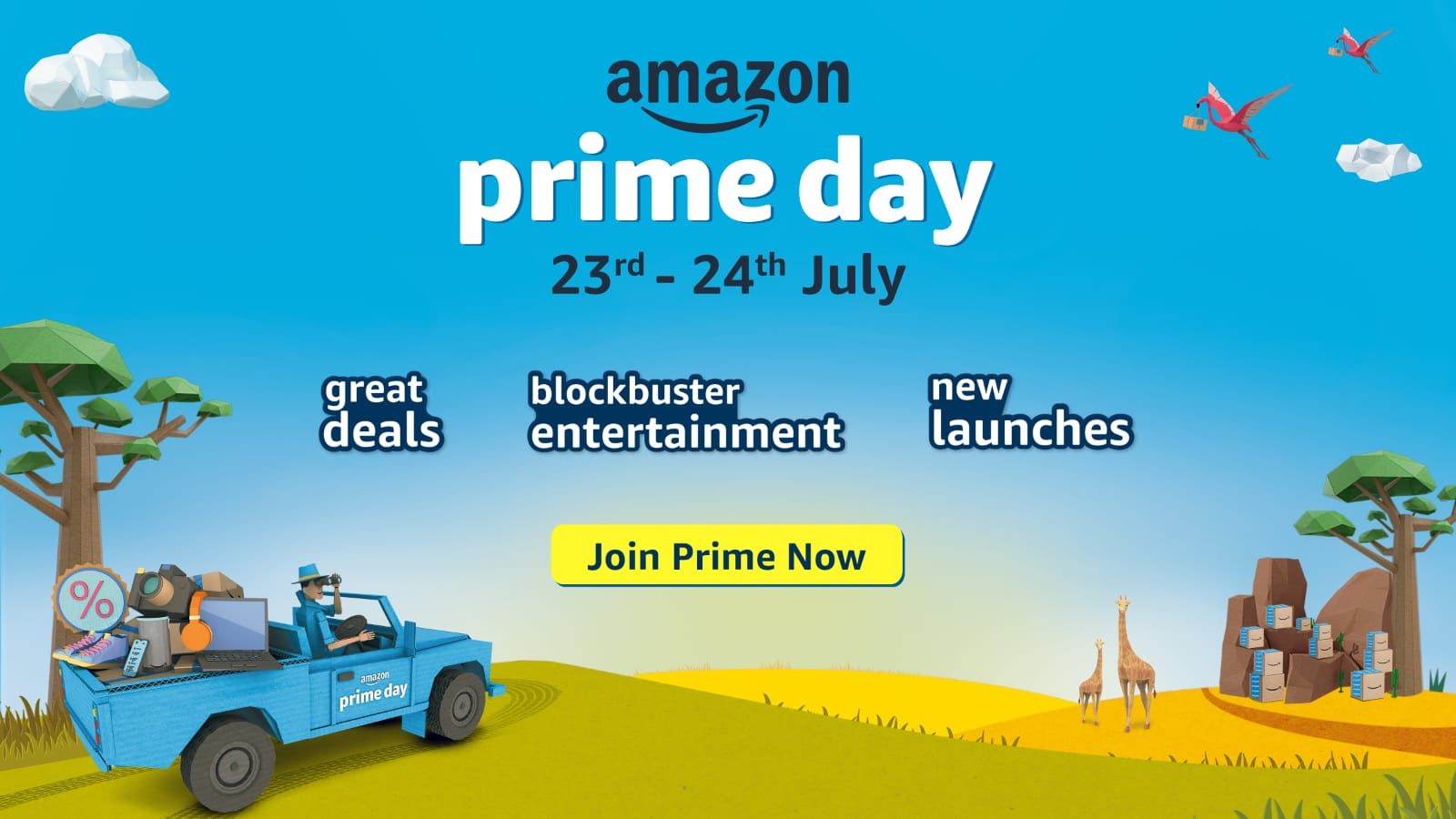 July , 2022: To help Prime members in India 'Discover Joy', Amazon is here again with its annual Prime Day! Two days of great deals, savings, blockbuster entertainment, new launches, and much more kicks off July 23, 2022, at 12:00 AM and runs through July 24, 2022. It's time to sit back, relax, and enjoy all the blockbuster entertainment and shop to your heart's content because Amazon will offer its Prime members the best deals and savings across categories. From Smartphones, Consumer Electronics, TVs, Appliances, Fashion & Beauty, Groceries, Amazon Devices, Home & Kitchen, Furniture to everyday essentials, and more, Prime members can enjoy new launches, never-heard-before deals, and the best entertainment benefits.
Commenting on the occasion, Akshay Sahi, Director – Prime and Fulfillment Experience, Amazon India said: "Our sixth Prime Day in India is bigger, better, and packed with unmatched shopping and entertainment experience for all our Prime members. We are humbled with the fabulous response and strong support of our existing Prime members till date, and I am confident that they will discover joy across exciting deals, new launches, and blockbuster entertainment during this Prime day. It has been our constant effort to bring value and convenience to our customers and we also see this as an opportunity to serve and welcome new customers to our Prime family."
This Prime Day, Amazon will continue to support Small and Medium Businesses (SMBs) and help generate customer demand for products offered by lakhs of sellers, manufacturers, start-ups & brands, women entrepreneurs, artisans, weavers, and local shops. During the event, Prime members will have the opportunity to discover deals on unique products across categories including fashion & beauty, electronics, and home décor from sellers under various programs such as Local Shops on Amazon, Launchpad, Saheli, and Karigar. During the lead-up to Prime Day, starting July 7, 12:00 AM till July 22, 23:59 PM, members can shop from millions of unique products offered by SMBs and avail incredible offers such as 10% cashback up to INR 100* that can be redeemed on their Prime Day purchases and more.
Prime Day 2021 marked the largest number of Small Medium Businesses (SMBs) selling on Amazon.in ever, as there was an overwhelming response from Prime members. Customers shopped from over 126,000 sellers including artisans, weavers, women entrepreneurs, start-ups & brands, local offline neighbourhood stores including sellers from Tier 2-3-4 cities like Barnala (Punjab), Champhai (Mizoram), Virudhunagar (Tamil Nadu), Guntur (Andhra Pradesh), Valsad (Gujarat) and Shajapur (Madhya Pradesh) among others. 31,230 sellers saw their highest ever single day sales and nearly 25% more sellers' grossed sales over INR 1 crore. Prime Day '21 also marked the highest viewership for Prime Video and highest number of listeners for Prime Music. Prime members enjoyed the best of what Prime Day '21 offered with the unique SMB selections, new launches, great savings, and engagement with various Prime benefits.
Prime is enjoyed by more than 200 million Prime members in 25 countries including India. Not a member yet? Join Prime for INR 1,499/year or INR 179 for one month at amazon.in/prime to enjoy Prime benefits such as free & fast delivery, unlimited video, ad-free music, exclusive deals, free in-game content on popular mobile games, and more. Additionally, 18-24-year-old customers can avail the Youth Offer and get 50% off on their Prime membership by simply verifying their age on Amazon after signing up for Prime.