AAP exposes yet another poor quality of roadwork at Siridao Flyover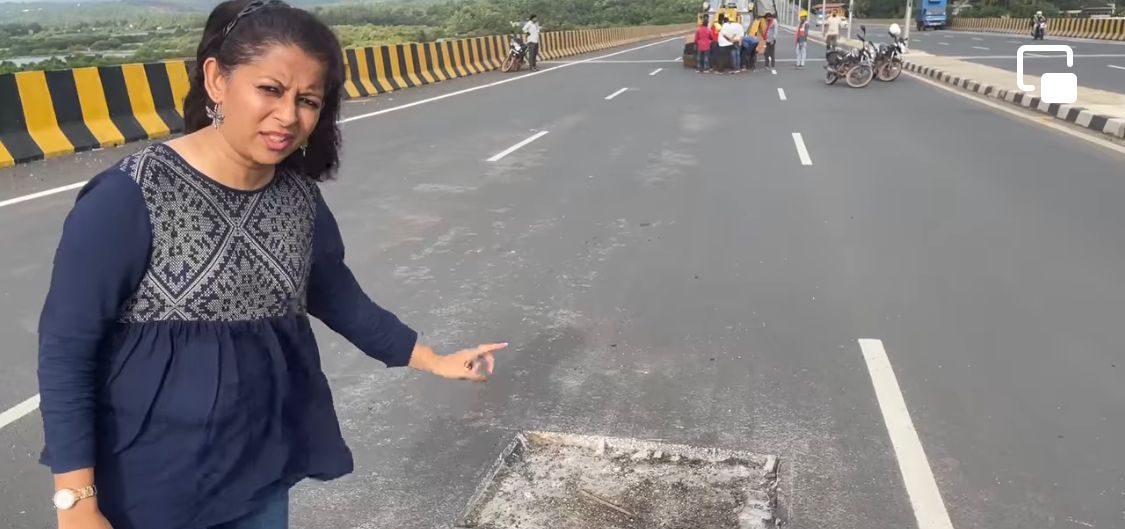 Panaji: The Aam Aadmi Party's National Youth Wing Vice President Cecille Rodrigues has exposed yet another poor quality of roadwork at Siridao Flyover NH road which was opened just three months ago.
According to Rodrigues, the catastrophic status of the NH road in Siridao is another example of the BJP government's poor roadwork which has been exposed by the torrential rain that had hammered the state last month.
It may be recalled that the AAP had explained why potholes were appearing in Atal Setu in the past. AAP pointed out that the faulty adhesive between concrete and asphalt was the main cause, and contractors across the country were forced to use inferior material as a result of the supplier's proximity to central minister.
As a result of this favoritism, AAP had predicted that all other new highways being built in Goa would also face this problem, and our prediction has come true.
On Monday, Rodrigues went to the Siridao NH road site where the entire stretch of road from Bambolim to Goa Velha-Agassaim had been closed off for repairs.
Rodrigues noted that three months after opening the Siridao NH road, potholes appeared and demonstrated the quality of roads Dilip Buildcon provided to the Goans.
Rodrigues said, "The Union Minister Nitin Gadkari had previously stated that the contractors were accountable for poor quality roads. The Siridao NH road lies within the Union Minister's jurisdiction, so will the minister hold Dilip Buildcon responsible?"
"The Union Minister claimed recently that the BJP government has set a target to reduce road accident deaths by 50 per cent by 2024, but the plight of Goan roads makes us realize that this is yet another false promise by the BJP government", she added.
"Even now the potholes are not being repaired as per guidelines and another spell of rain will create potholes at the same spots", said Rodrigues.