55 Goans Recruited Between 2014 to 2022 Prove that IPB Projects of BJP Govt. are "JUMLAS" – Amit Patkar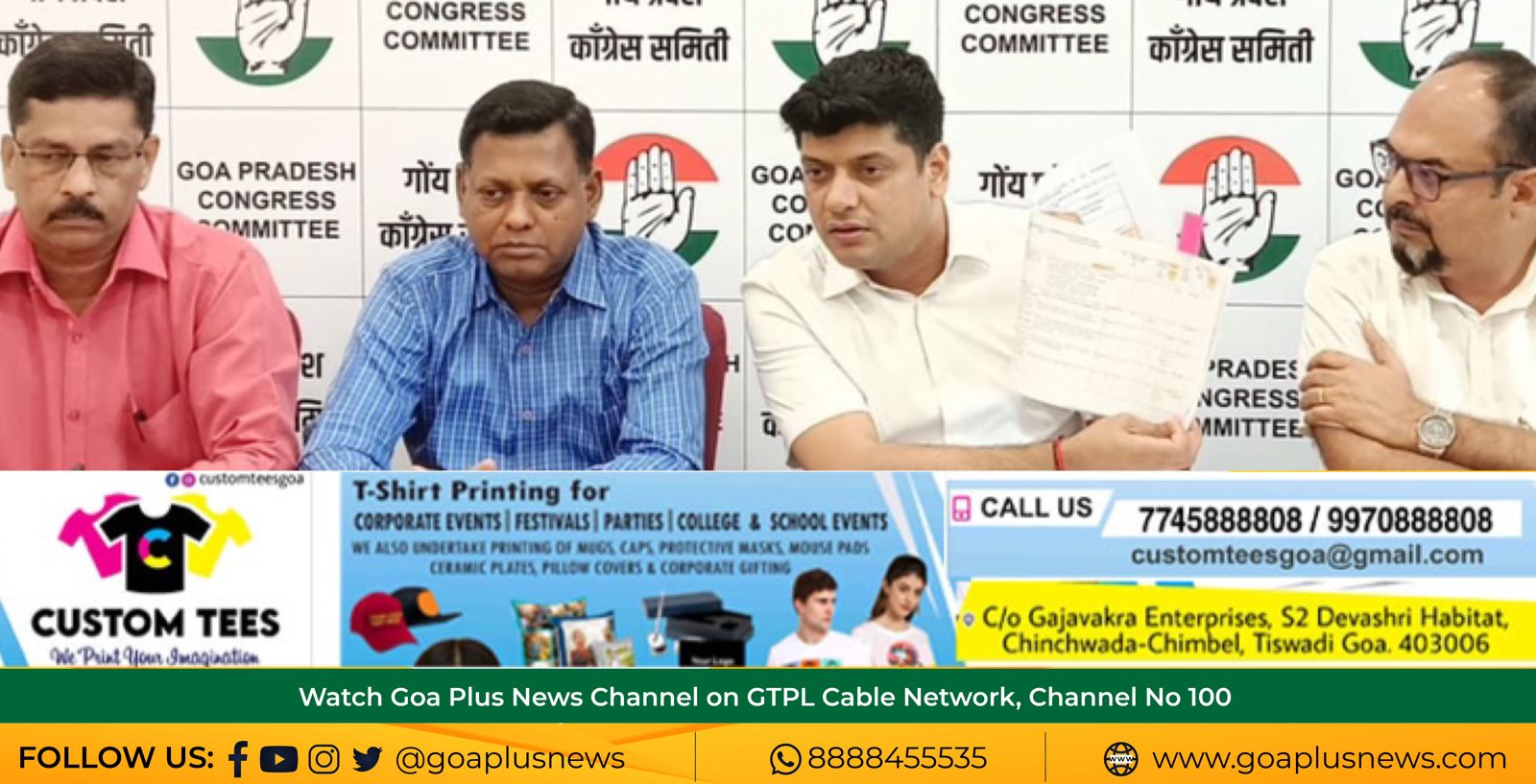 Panaji: Investment Promotion Board (IPB) has turned out to be a Money-Making Mechanism for BJP Government under Chief Minister Dr. Pramod Sawant. Although repeated tall claims are made about the Projects and Employment generated by the Projects cleared under IPB, the reality is only 55 Goans out of 8073 employees are employed in various Units in Goa, stated Congress President Amit Patkar.
Addressing a Press Conference at Congress House in Panaji along with Congress General Secretaries Capt. Viriato Fernandes, Amarnath Panjikar and Moreno Rebello, Congress President said that the statement made the Chief Minister Dr. Pramod Sawant yesterday as one more "Jumla" in the series of many "Jumlas" announced by the BJP Governments at the Center and State.
Industries Minister Mauvin Godinho in his Reply to a Legislative Assembly Question (LAQ) No. 32 dated 21st July 2022 revealed that 228 Projects were granted in Principal Approval with Investment of 16874.32 crores out of which 76 Projects have been completed from 2014 till 2022. In the Annexure to the said Reply, Industries Minister Mauvin Godinho has clearly stated Actual Employment number is 8073 (19.3 %) as against 41627 of the Proposed Employment, out of which only 55 are Goans, revealed Amit Patkar.
In the Reply to LAQ 6C dated 19th January 2023 the Government has stated that "Goa Investment Promotion Board has started to collect data of Employment of Goans and Non-Goan Employees by early 2021". Incidentally the Reply to LAQ number 134 answered on 31st March 2023, Government has replied that "Goa IPB does not maintain the details of Names, Addresses, Age, Qualification, Designation of the persons employed, their Date of Appointment and current status of the Job". What changed between January 2023 and March 2023 for Government to stop collecting data of Goans and Non-Goans working in IPB approved Projects? Questioned Amit Patkar.
It is evident from the fact that the Government has deleted the column of "Actual Employment" from the Annexures provided to Starred LAQ 1A and Unstarred LAQ 134 answered on 31st March 2023. The Actual Employment column was there in the Annexure given with Reply to LAQ 32 answered on 21st July 2022.
BJP Government spent 3.10 crores on Mega Job Fair where almost 21 thousand youth registered but only 576 got jobs. BJP Government is selling jobs in Goa said Capt. Viriato Fernandes.
There is scam in Goa IDC plot allotment. IDC Chairman Aleixo Reginaldo Lourenco is silent. Goans are not given jobs, but Plots are sold to outsiders taking commision, said Moreno Rebello.
Congress Party has time and again exposed IPB since its inception. Todays data shows what we raised years back was true, stated Amarnath Panjikar.