05 arrested for house breaking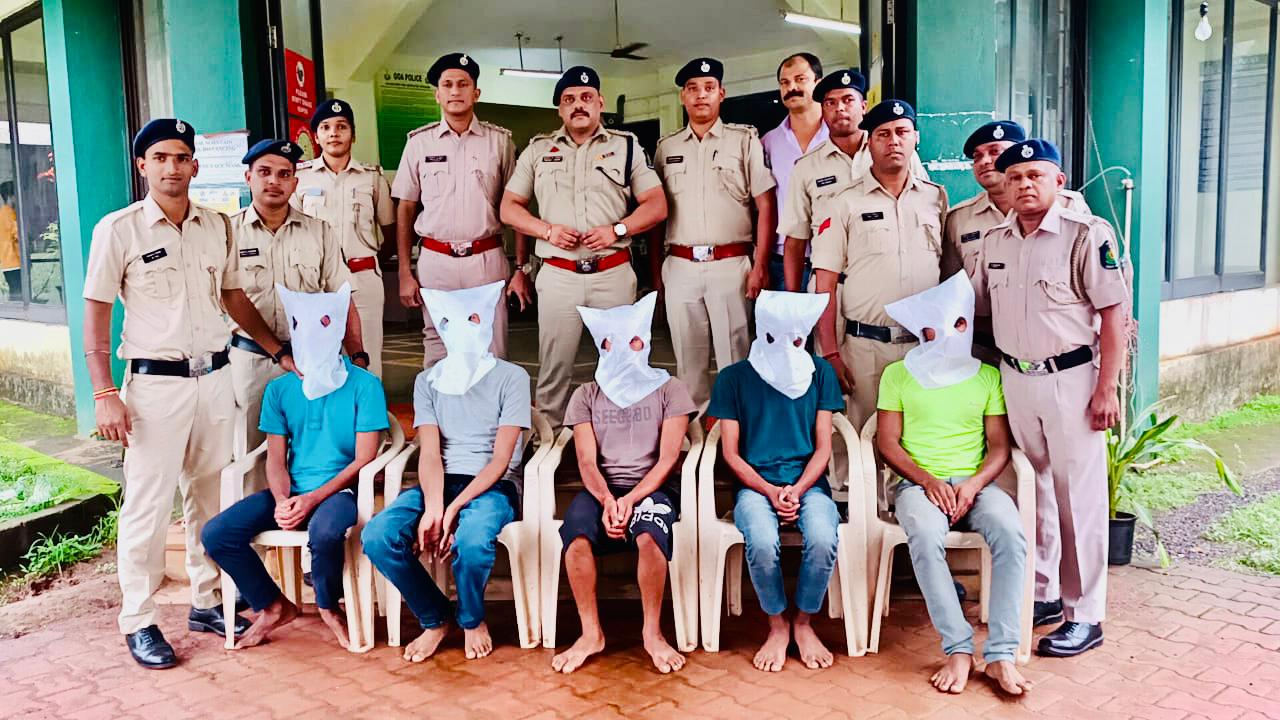 Panaji: Anjuna Police Station through their meticulous planning and coordination cracked down one blind house Burglary case which took in between 15/05/2022 and 16/05/2022 at H. No. 95/A, Querem, Vaddi, Siolim, Bardez Goa wherein unknown accused persons having medium built effected entry into the house of the complainant by break opening main door of complainant's house and thereafter committed theft of gold, silver, platinum, diamond jewellery, sunglasses and 3000/- Euros having altogether value of Rs. 15,12,610/- approx and decamped with the same.
During the course of investigation a team was formed under the supervision of SP North Shobit Saxena IPS and the developed information was well executed through technical surveillance staff and on field staff leading to arrest of accused persons namely (1) Mr. Mithun Kumar Parihar s/o Jagdish Parihar, age- 30 years, r/o Ward No. 8, Dilawarpur, Post office- Bairia, P.S.- Amdabad, Dist- Katihar, Bihar, (2) Mr. Arunkumar s/o Badri Tanti, age- 22 years, Occp- Housekeeping, r/o c/o Villa De Floa, Assagao, Bardez Goa, n/o Dilawarpur, Post-office- Bairia, P.S.- Amdabad, Dist- Katihar, Bihar (3) Mr. Param s/o Upendra Chodankar, age- 23 years, Occp-, r/o H. No. 688, Badem, Assagao Goa, (4) Mr. Sundar s/o Fajalu Khan, age 21 yrs r/o Gram Belgacchi, Post- Beiria, PS- Amdabad, Dist- Katihar, Bihar and (5) Mr. Shaikh Raju s/o Shaikh Halimuddin, age 23 yrs r/o Bairia, ward no. 14, PS Amdabad, Katihar, Bihar and recovered Euros and Jewelley items from their possession.
The accused persons were traced from various parts in India such as Delhi and Maharashtra.
The accused persons are also involved in another crime of house breaking that happened in Saligao Police Station.
The police have seized antique glass, silver jewellery, silver god idols, watch, gold jewellery, Nikon camera etc and 100 Euros from the arrested persons.
Mastermind of this theft is accused Param Chodankar, age 23 yrs R/o Badem, Assagao – Goa who worked in the bakery of complainants restaurant. He showed the other accused Mr. Arun Kumar persons the house as he knows the timings when the house would be empty.
Other accused persons are working at another hotel in Assagao and at construction site in Soccoro.
The team was led supervised by SP North Shobit Saxena IPS and SDPO Mapusa Jivba Dalvi and consisted of by PI Anjuna Prashal P. N. Dessai, PSI Atikesh Khedekar, PSI Viraj Korgaonkar, PSI Dhiraj Devidas, PSI Tejeshumar Naik, LPSI Sneha Sawal, ASI Mohan Parab, HC- 4435 Anil Pilgaonkar, PC- 6473 Mahendra Mandrekar, PC-7932 Rupesh Azgaonkar, PC 7832 Mayur Ghadi, PC-7244 Rahul Angolkar of Saligao PS, PC- 7242 Nikitesh Naik, PC-6128 Shrikrishna Redkar, PC- 7385 Snehal Malik, PC- 7266 Ramdas Harmalkar.