Publish Data of Job Fair, No Place for Dissent under BJP Rule- Yuri Alemao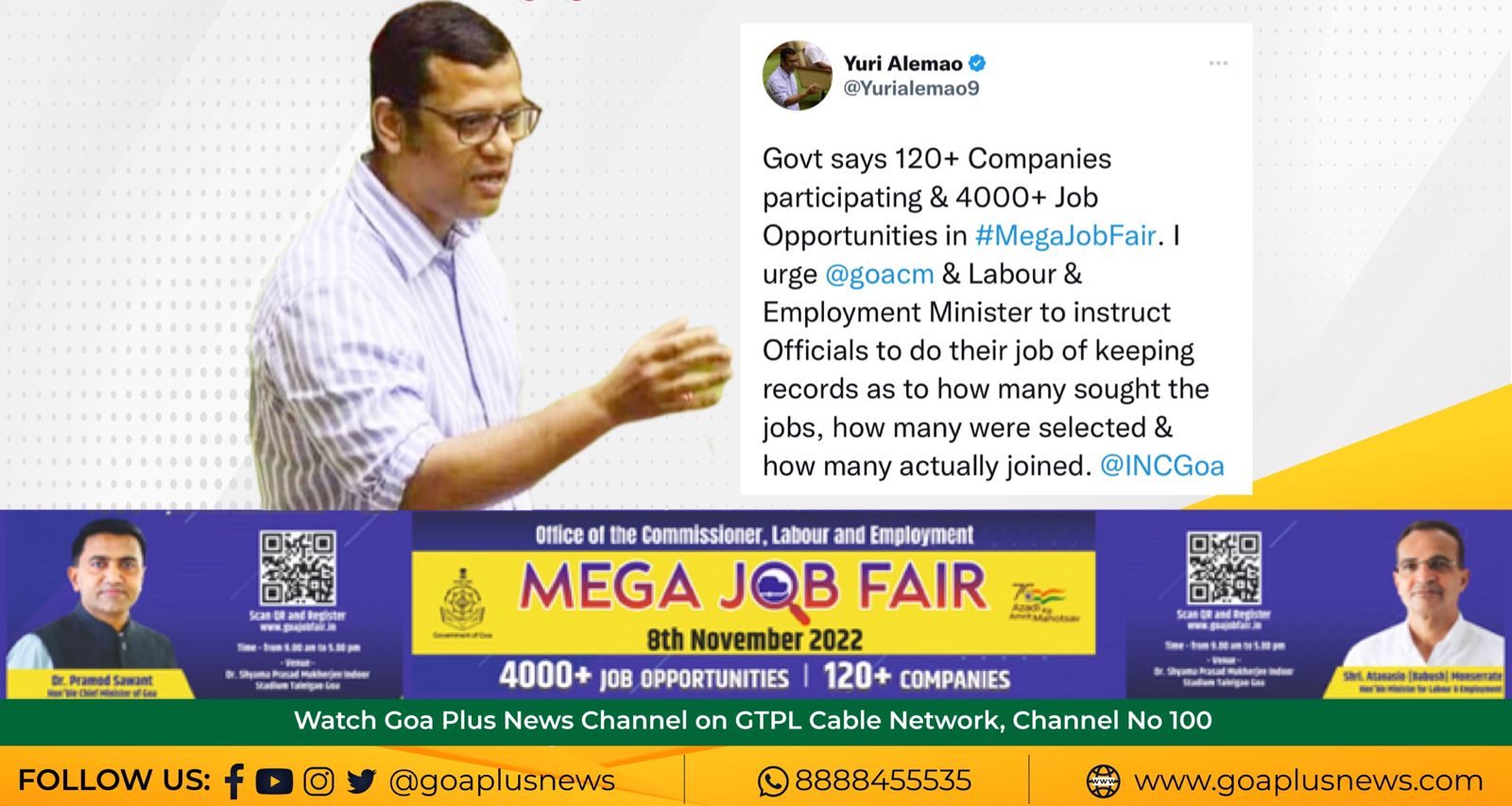 Panaji – Govt says 120 plus Companies participating & 4000 plus Job Opportunities in the Mega Job Fair. I urge Chief Minister Dr. Pramod Sawant & Labour & Employment Minister Atanasio Monserrate to instruct Officials to do their job of keeping records as to how many sought the jobs, how many were selected & how many actually joined demanded Leader of Opposition Yuri Alemao.
Reacting to the hype created by the BJP Government about the Mega Job Fair, Leader of Opposition pointed that Labour & Employment Department was clueless on Private Jobs in Goa as per replies given in last Assembly Session.
I have replies to Legislative Assembly Questions which exposes the fact that out of 1.16 lakhs registered with Employment Exchange in Goa, only 115 were given Regular Government Jobs & 1749 were taken on Contract basis, Yuri Alemao said. The reply to another question reveals that only 1506 youths were given placements in private sector in last five years, he stated.
Leader of Opposition also questioned Art and Culture Minister Govind Gaude on postponement of Festival of Ideas. Is it that he had no idea of who is invited for the festival? what is the status of work at Ravindra Bhavan? Will he fix responsibility on the goofup? Yuri Alemao asked.
Will Art & Culture Minister Govind Gaude clarify if he has any idea of the same Liberal Resource Persons participating in the postponed 'D D Kossambi Festival of Ideas' or will he invite Experts in Fakery & Jumlas? It is clear, under BJP rule, there is no space for dissent, Yuri Alemao said.
I want to bring to the notice of the Art and Culture Minister that the Festival of Ideas was initiated by Congress Government. Our Government invited faculties and resource persons from various fields encouraging free speech, Yuri Alemao said.
I hope the Festival will take place soon with the same key note speakers. I appeal to the Art and Culture Minister not to come under pressure, Yuri Alemao said.