Keep strict vigil on Sunburn, partakers should not die of drugs overdose: Janardhan Bhandari
Submits Memorandum to concern Govt Departments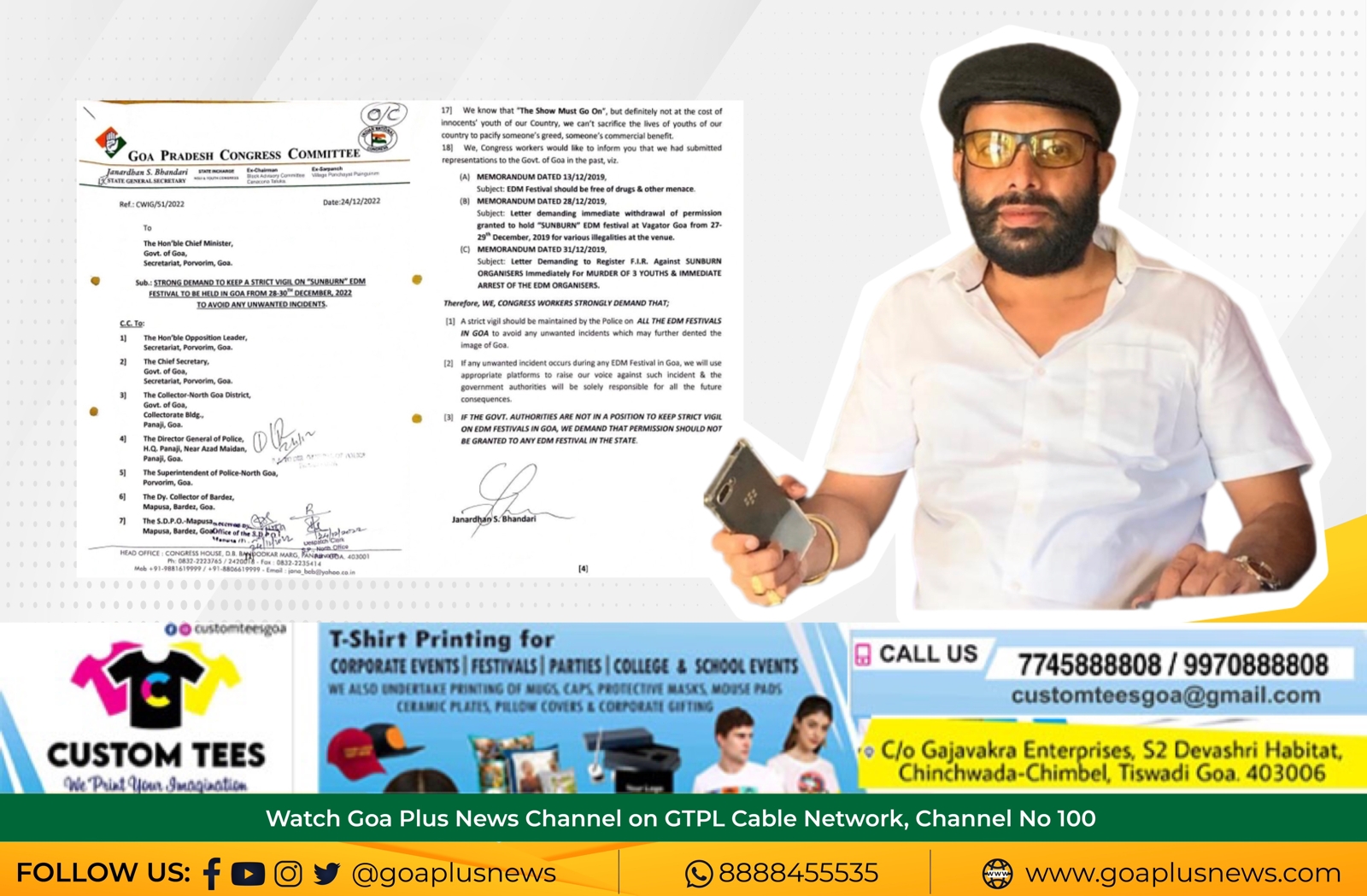 Panaji: Claiming that many deaths have taken place during Electronic Dance Music (EDM) festivals in Goa due to alleged consumption of drugs, Congress leader Janardhan S. Bhandari has demanded to keep strict vigil on the 'Sunburn' festival scheduled last week of December.
In this regard, Bhandari has submitted a memorandum to Chief Minister Pramod Sawant and concerned departments.
"EDM festivals like SUNBURN always bring controversies defaming the name of our Goa. In 2009, Neha Bahuguna died due to alleged overdose of drugs, in 2014 fashion designer from Mumbai Isha Mantry died after EDM festival allegedly due to drug overdose and in 2019, 3 youths, namely Sai Prasad (32 yrs), Venkat Satyanarayana (31 yrs) and Sandeep Kotta (24 yrs) died allegedly due to overdose of drugs," Bhandari said in memorandum.
"In 2012, the organizers of SUNBURN had levelled charges of corruption against the Govt. of Goa and the then Chief Minister Manohar Parrikar had warned the EDM organizers to prove the charges otherwise tender apology for levelling baseless allegations. Later in 2013, the local channel, HCN exposed how SUNBURN EDM organizers are evading commercial taxes and other taxes payable to the Govt. of Goa. After the news, the Commissioner of Commercial Taxes deployed staff at the ticket counter at EDM Venue," memorandum further stated.
"In 2016, SUNBURN EDM festival organizers went to Pune- Maharashtra. But after opposition from locals alleging they were promoting nudity, obscenity, alcohol and drugs. Due to strong resentments of local people, SUNBURN was forced to change venues of the festival twice during a brief period of 3 years in Pune. As SUNBURN organizers then failed to accumulate revenue similar to Goa, they desperately tried to return to Goa," Memorandum further said.
According to Bhandari, when Sunburn returned to Goa 3 youths died in December 2019, which again raised serious questions about such EDM festivals.
Through representation, We have asked the State Govt. why it has changed its policy decision of not allowing mega EDM festivals during the December 15-January 15, the peak tourist season & now allow such EDM during the peak tourist season.
"Congress workers have warned the govt. that the recent death of Sonali Phogat, BJP leader from Haryana, due to drug overdose in Goa & other cases has created an impression that drugs are easily available in Goa. Therefore, Congress workers have demanded that a strict vigil should be kept on SUNBURN & all other EDM festivals to be held in Goa," Bhandari said.
Bhandari has warned the government authorities that if any unwanted incident occurs, Congress workers will use proper platform to raise voice against such incidents & the government will be solely responsible for all the future consequences.