Congress focusing on getting Goa back to Goans: Priyanka Gandhi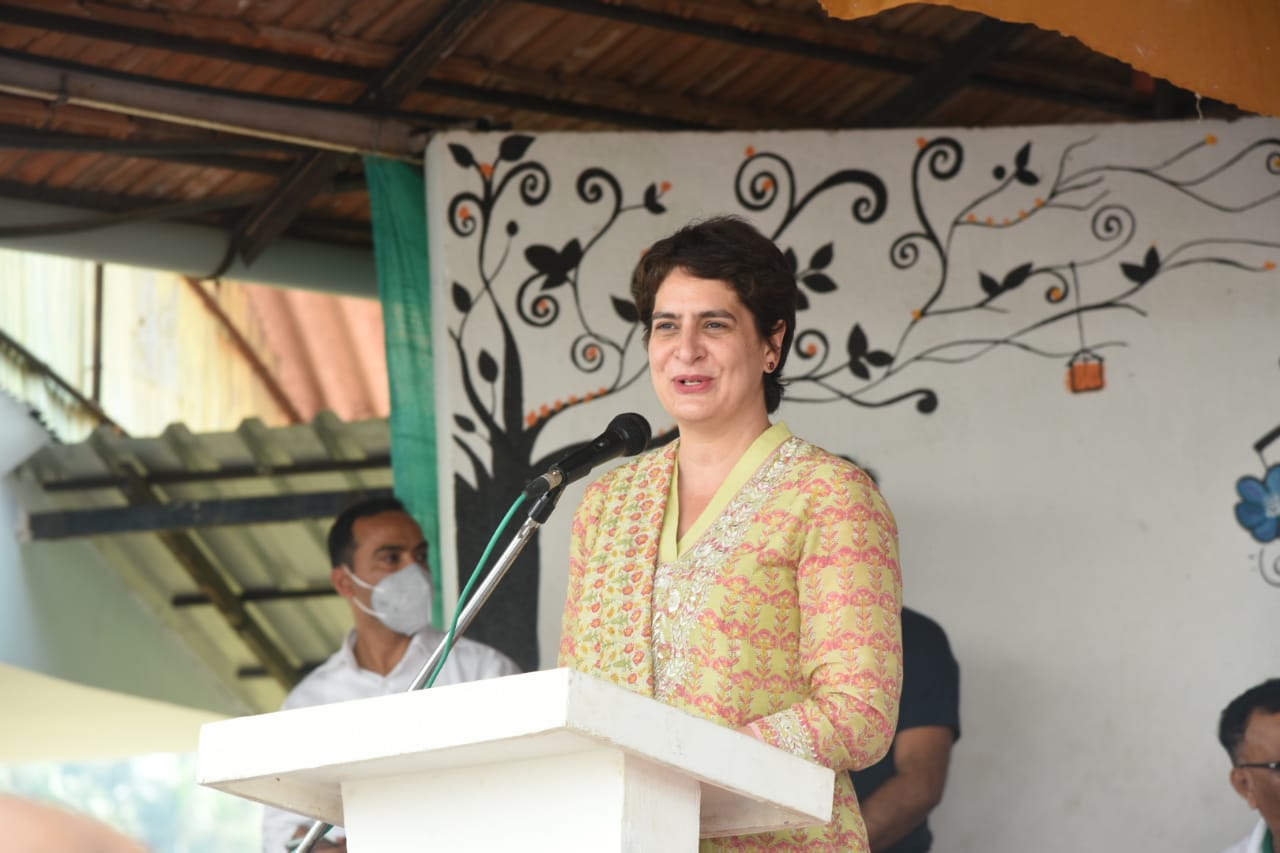 PANAJI: Congress Leader Priyanka Gandhi on her Goa visit attacked BJP for ruining rich environment, rich resources, and rich skill of Goa by only focusing on staying power and promised people to bring Goa back to Goans by rejecting three linear projects, rejecting coal hub, implementing benefiting policies and protecting natural beauty of State.
Priyanka Gandhi on Monday addressed meetings at Majorda, Nuvem, Navelim, St. Andre, St. Cruz Cumbharjua and Panaji. Senior Congress leader and former Finance Minister P Chidambaram, Leader of Opposition Digambar Kamat, Goa In Charge Dinesh Gundu Rao, GPCC President Girish Chodankar, youth President Adv. Varad Mardolkar and candidates of respective constituencies were present on the occasion. Nuvem candidate Alex Siquera, Navelim candidate Avertano Furtado , candidate St. Andre candidate Anthony L. Fernandes, St. Cruz candidate Rodolfo Louis Fernandes, Cumbharjua candidate Rajesh Phaldesai and Panaji candidate Elvis Gomes were present on the occasion.
"This election is significant for Goans. Goa is rich in resources, natural beauty, skill and environment. However, the BJP government has failed to protect them and help Goans. BJP initially usurped power by wrong means and promoted defection and later focused only on remaining in power. Thus it sidelined the core issues of Goa and imposed unwanted projects." She said.
Gandhi said that BJP failed to take health care of Goans, during COVID and mismanagement led to deaths of patients due to lack of oxygen. "BJP even failed post COVID time. Tourism of Goa was badly affected by COVID and lockdowns. However, the BJP government took no measures to revive it. Thus people of Goa suffered and the economy collapsed." She said.
She said that there is rise in crime against women in Goa and the incident of Minister of BJP involved in sex scandal was unacceptable. "I am working hard to bring women into politics. Because women can bring positivity in politics, which is indeed needed." She said, hailing the manifesto of Congress promising 30 percent government jobs to women and hostels of working women.
"This is a very important election for Goa. Focus of Congress is on getting Goa back to Goans." She reiterated.
P Chidambaram appealed to the people of Goa to think about the future of their families and of their own. "There is a wave in Goa to replace the BJP. Everyone knows that Congress is the only option and not TMC or AAP. These political parties have entered Goa to divide non-BJP votes. They don't have any grassroot level work in Goa." Chidambaram said.
He attacked BJP saying the ruling party implemented the projects against the wishes of the people. "Now BJP has changed the status of MPT, which is now MPA (Authority) and Goan laws will not be applied to it. BJP is creating State within State." He said.
Chidambaram assured to scrap 16B, and cancel the coal hub. "We are focusing on enhancement of security to women by establishing more police stations, recruitment of women police and jobs through staff selection commission.
"Goa will be run by Goans, not by parties from West Bengal and Delhi." Chidambaram, attacking AAP and TMC, said.
Girish Chodankar said that as promised Congress party has not given tickets to defectors. "BJP has misruled and there is a need to send their candidates home." He said.