Capitalist would take control over Goa, If High Court's order continues: Congress
Only ECI can do merger, Speaker has no power – Chodankar, ECI says No knowledge of merger, while HC endorses merger. To whom should Goan's believe?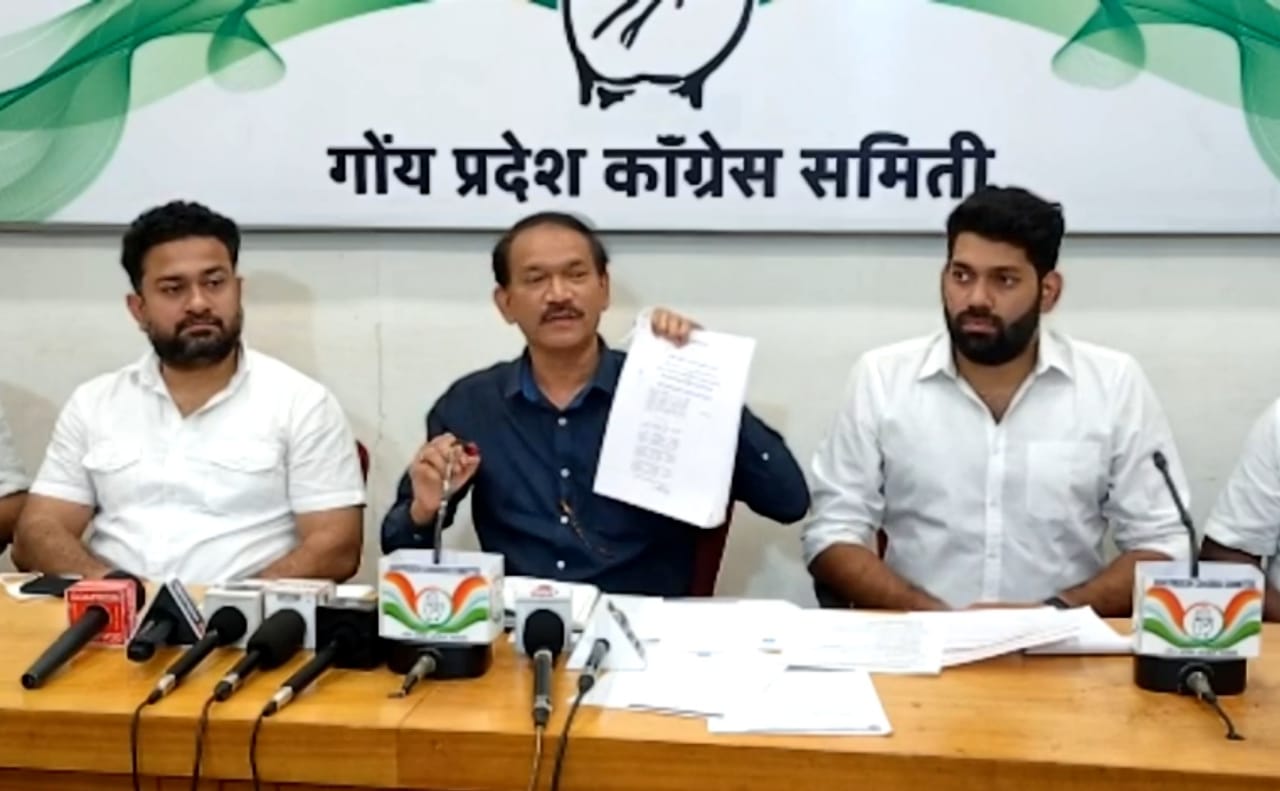 PANAJI: The GPCC President Girish Chodankar on Sunday stated that order of Hon'ble High Court with regards to disqualification of ten MLAs, has given license to 'open defection' and in future any capitalist will form political parties and get 2/3rd MLAs without contesting elections and will take control over Goa and the nation.
According to him, the basic concept of democratic process and Constitution is under attack as the interpretation by the High Court virtually permits or legalises the 'horse trading' in the House.
The Goa Bench of the Bombay High Court on February 24 had upheld the Goa Assembly Speaker's order dismissing two petitions seeking disqualification of 12 MLAs who had joined BJP in 2019.
Chodankar on Sunday addressed a press conference and said that though he respected the order of the high court, but it has raised many questions and has to be answered either by the Supreme Court or the Parliament has to take a call on it.
Youth Congress president Adv. Varad Mardolkar, John Nazareth, Social Media In Charge Himanshu Tiverekar and others were present on the occasion.
"Congress party will never allow the wrong precedence to be set up in the country as it is not just a matter about Goa but it is all about the democratic fabric of our country based on which the governments work. We will fight against such defections." He said.
Chodankar pointed out that through RTI, filed before Election Commission of India, it was clear that merger had not taken place and Congress Party in Goa was and is still existing. "But the Hon'ble High Court upholding Speaker's order endorses the merger." Chodankar said.
"People had voted for secular ideology and these MLAs joined a party which had an opposite ideology. This order will encourage more defection and will play with the sentiments of voters." He said.
"This order is a license to open defection, which is very dangerous. If this order continues, then the tenth schedule of the Constitution (anti defection law) will be called as LAWS FOR DEFECTIONS." He said.
Citing the example of former NCP MLA Churchill Alemao, who merged the party into TMC and became their MLA, Chodankar said that TMC, though, didn't participate in the 2017 election process, but had MLA in the Assembly before the term of the assembly ended.
"In future "Adani Janata Party" or "Ambani Janata Party" will buy 2/3 rd MLAs without contesting elections and form Governments. They will be free to do whatever they want, Nobody can stop them." This will frustrate voters. He said.
He also claimed that the tenth schedule doesn't empower the speaker to merge political parties in.
"I challenge them to prove it. It is domain and mandate of Election Commission of India to merge the parties and not speaker of any assembly."he said.
Whilst, giving an example of merger of Haryana Janhit Congress with INC, Chodankar said that ECI has process to recheck the merger by contacting counterparts of State, which has not taken place in Goa as only speaker decided on merger. "Same process was adopted when Churchill Alemao and Alexio Reginald had merged Save Goa Party with Congress as they had approached ECI, who heard the other members of party and then gave judgment." He said.
He also pointed out that the order of HC was very casual as it records that Goa Forward party argued in favour of defected MLA and that tenth schedule is for granting protection and not disqualification. "Actually Adv. Lawande representing Goa Forward party had argued that they support case of the Petitioners and that respondent MLA's should be disqualified." He said.
Chodankar declared that the process to challenge the HC order with SC has started and appealed all political parties to fight the order for the existence of Political parties and democratic norms.