BJP's anti-people, anti-poor mindset exposed: Kamat
Bring petroleum products under GST; control prices, Congress submits a memorandum to Govt.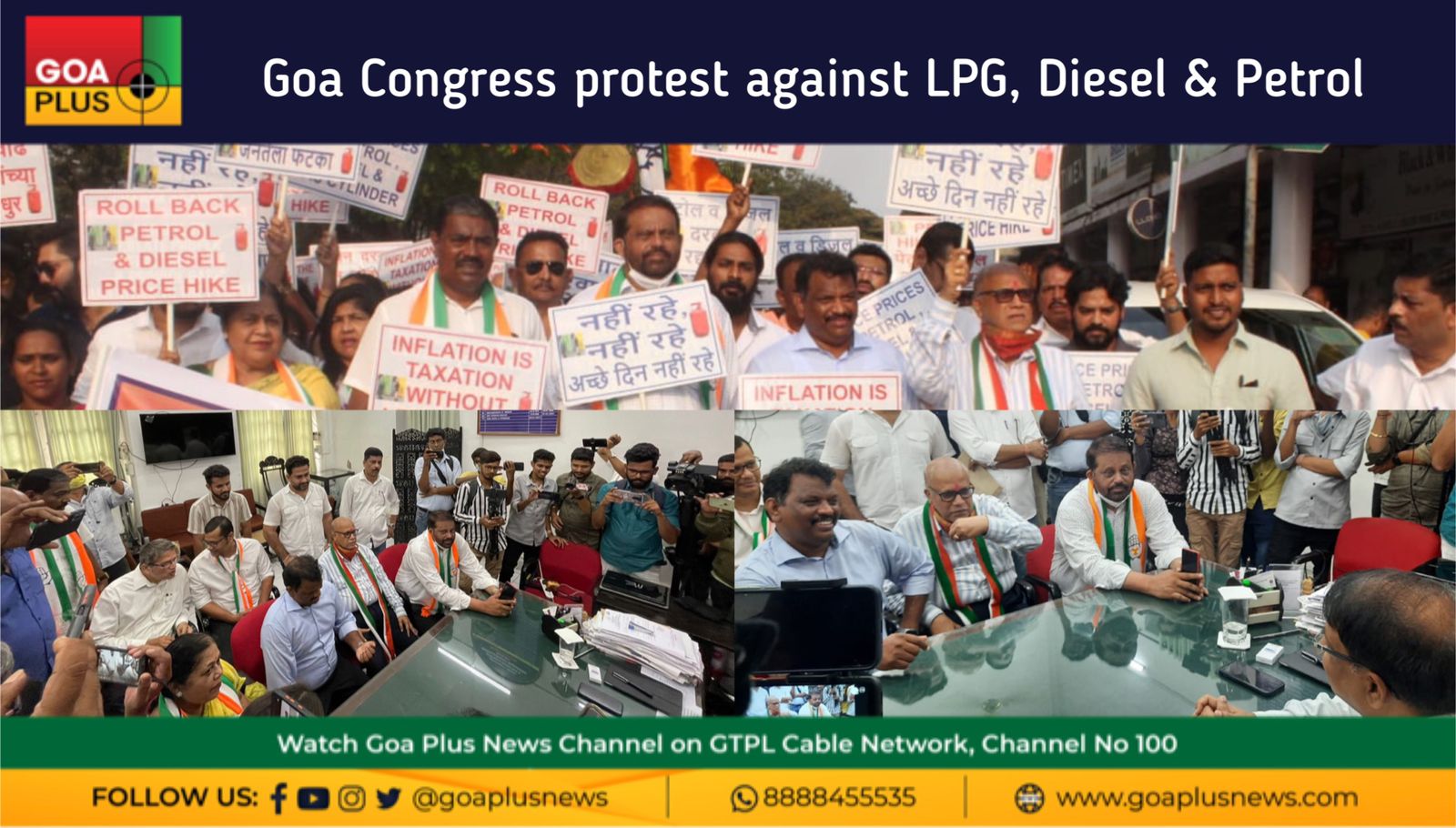 PANAJI: Alleging that the anti-people and anti-poor mindset of the BJP has been exposed once again by increasing prices of petroleum products, the Goa Pradesh Congress Committee on Wednesday demanded to control the prices of petrol diesel and LPG by bringing it under the ambit of GST.
The leaders of Congress party along with supporters on Wednesday protested against the recent hike in fuel and LPG. The price of petrol and diesel has gone up by 80 paise per litre and LPG cylinder by Rs 50.
Margao MLA Digambar Kamat, MLA Michael Lobo, MLA Adv. Carlos Ferreira, MLA Sankalp Amonkar, MLA Yuri Aelmao, MLA Rudolf Fernandes, MLA Rajesh Faldesai, Mahila President Bina Naik, Media Chairman Amarnath Panajikar, Youth Congress President Adv. Varad Mardolkar, General Secretary Janardhan Bhandari, Naushad choudhary, Himanshu Tivrekar, Saish Aroskar,
, Archit Naik, Capt Varieto Fernandes, Sudhir Kandolkar, Manisha Usgaonkar, Amit Patkar,
Vikas Prabhudesai, Nazir Khan,
Olencio Viagas, Chandan Mandrekar, Gajanan Tilve,
Atul Naik, and others were present on the occasion.
Memorandum to roll back the prices has been submitted to the north collector.
Speaking to media persons, Digambar Kamat said that in the last two years, price rise of fuel and LPG has been taking place constantly. "People are facing hardship to afford LPG." He said.
"Our demand is to bring fuel products under the ambit of GST. Many states are demanding the same, but the government is not fulfilling these demands." Kamat said.
"Till election BJP didn't touch the price of fuel and LPG. But after coming to power BJP has shown its colors." Kamat said
Lobo said that poor women are being forcibly discouraged from using LPG due to the high price. "Initially, the Modi government tried to promote LPG under Ujwala Yojana, however it is now forcing people to switch to traditional firewood cooking." Lobo said.
"Those drawing salaries and others earning below ten thousand rupees will face problems due to this price rise." He pointed out.
Bina Naik said that all the apprehensions we had expressed about an increase in price of petrol, diesel and LPG after the Assembly elections in the five states have proved true today. "people are facing problems due to the price hike." She said.